Back by popular demand, throughout September and October, Pedal Power – funded by Cardiff & Vale Health Charity – will be providing an additional 14 Bike Health Check sessions across Cardiff and Vale University Health Board. Free for staff, the half an hour safety checks will also offer minor repairs on site, and advice will be given if larger repairs are needed.
The feedback from the previous Bike Health Check sessions was excellent and the events were fully booked weeks in advance. In response to the positive engagement, the sessions will now be offered across more UHB sites over September and October. The sites with the available Bike Health Checks are: UHW, UHL, CRI, Barry Hospital, St David's Hospital and Woodland House.
Book your spot by clicking on the dates next to the list of locations below, or go to https://healthcharity.wales/events/. The exact locations are included on the booking pages of each event.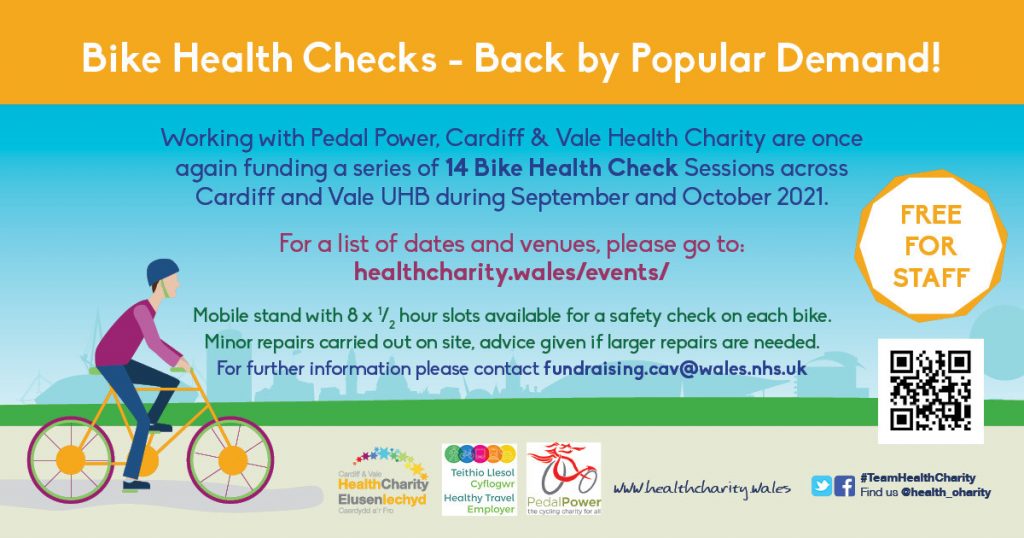 Staff who have previously benefited from the safety checks said:
"The Bike Health Check was great. I have a second hand bike so it really put my mind at ease to have someone who knows what they're doing to look it over. It was really quick and easy, Craig was very helpful and reassuring.' – Holly Tarren, Community Child Health
"Craig was really approachable, friendly and kindly answered any questions that I had regarding the future maintenance of my bike. He talked me through the bike service and the parts that he had checked, also giving advice on tyre pressures for a better ride. I would recommend Craig and Pedal Power to others." – Neil Coleman, Physio Tech at Vale Community Resource Service
You can read more about the previous sessions here, and for any further queries please contact fundraising.cav@wales.nhs.uk
Book your place here by clicking on the dates:
University Hospital of Wales – 9th, 14th and 23rd of September, 12th of October
University Hospital Llandough – 28th of September and of 21st of October
Cardiff Royal Infirmary – 16th of September and 5th of October
Barry Hospital – 21st of September and 7th of October
St David's Hospital – 30th of September and 19th of October
Woodland House – 7th of September and 14th of October