Most of our funds support one specific ward or department, except our Make It Better Fund.
People who donate to the Make It Better Fund will be supporting projects that don't fit neatly into our dedicated funds – they might help more than one ward, more than one hospital site, or be pilot projects that have the potential to completely revolutionise our services.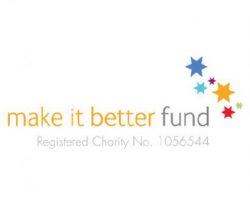 Some examples are equipping the HeArth Gallery in University Hospital Llandough; supplying appointment pagers so people can use their time to get a coffee instead of waiting in outpatients; making sure all our wards have dementia-friendly activities available in the day rooms.
What all of these have in common is that our staff have identified that this is a project that could Make It Better for everybody who spends time in our hospitals and health centres. So keep an eye out for our Make It Better Fund stickers, showing what equipment has been bought with the fund, next time you're visiting us!
Donate