Working with local charity Pedal Power, Cardiff & Vale Health Charity has recently funded a series of FREE Bike Health Check sessions for Cardiff and Vale University Health Board (UHB) staff, with the aim of helping staff to get back on their bikes and out in the fresh air!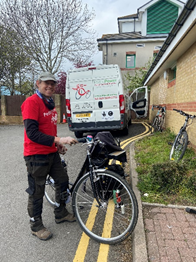 These initial sessions were held at St David's Hospital, Barry Hospital and University Hospital Llandough, with a final session being held at Cardiff Royal Infirmary next week. All sessions were fully booked by staff weeks in advance and Craig Standage from Cardiff Pedal Power said: "It's great to see so many people using their bikes to commute, I hope that becomes the norm."
Here is just some of the positive feedback the Health Charity has received from members of staff following their Bike Health Checks: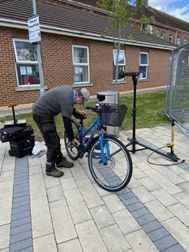 "The Bike Health Check was great.  I have a second hand bike so it really put my mind at ease to have someone who knows what they're doing to look it over. It was really quick and easy, Craig was very helpful and reassuring. It was good also to get some information about his organisation, for instance how to rent bikes if family come to visit as we don't have spare bikes at home. I would sign up again if the opportunity arose again in the future and I'm really grateful the Health Charity offered it in the first place!  It was also very kind of you to arrange such lovely weather for it too!" Holly Tarren, Community Child Health who was the first person to receive a Bike Health Check at St David's Hospital.
"Craig was really approachable, friendly and kindly answered any questions that I had regarding the future maintenance of my bike. He talked me through the bike service and the parts that he had checked, also giving advice on tyre pressures for a better ride.  I would recommend Craig and Pedal Power to others." – Neil Coleman, Physio Tech at Vale Community Resource Service who attended the session at Barry Hospital.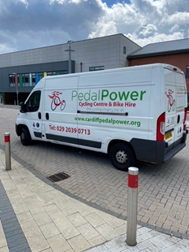 "Just wanted to give some feedback as just had my health check on my bike. I thought it was an excellent service. Craig was really friendly, answered my questions and gave me a few tips. I'd definitely recommend it to other bike users, and it would be nice to see the sessions run again in the future. I also thought it was really good to see that the sessions were put on at a lot of the 'peripheral' hospital sites, making the service accessible to more members of staff." – Mari Lea-Davies, Lead Pharmacist – Respiratory who attended the session at University Hospital Llandough.
Sue Dickson-Davies, Cardiff & Vale Health Charity lead for the project said "Staff have been incredibly grateful to be offered this free service, and are really impressed with the service that Craig from Pedal Power has provided, helping to get their healthy bikes back on the road! The Health Charity has received many requests for future sessions and I am looking into ways to fund this project to be repeated at these sites, but also include other hospital sites and work areas across Cardiff and Vale UHB. Keep an eye on our Cardiff & Vale Health Charity social media channels and website, www.healthcharity.wales for news of future dates later in the summer!"
This project is helping the UHB meet its commitments under the Healthy Travel Charter – further information can be found here: www.healthytravel.wales/charters
To find out more about the services Cardiff Pedal Power offer, please visit: https://www.cardiffpedalpower.org
For further information about this scheme or for any Health Charity projects, please contact the team by emailing fundraising.cav@wales.nhs.uk