Cardiff Critical Care Green Futures Fund
We always appreciate the support patients and families often show to staff. If you are looking for a different way of thanking Critical Care staff that may benefit future generations, one way to do this is through the Cardiff Critical Care Green Futures Fund.
Cardiff Critical Care Green Futures Fund was born out of the COVID-19 pandemic. Critical Care staff noticed the necessary increase in use of single-use plastics such as PPE and wanted to do something about it. At the same time there was a feeling that there needed to be a lasting and visible commemoration that collectively recognises loss, and celebrates recovery.
The main purpose of the fund is to plant at least one tree for every patient admitted to our Critical Care Unit. We partner with established, responsible projects that plant native trees in the areas where our patients live, which for a specialist ICU like Cardiff, is all of South Wales and beyond.
An example of this is our partnership with 'stump up for trees'; more information about them can be found here https://stumpupfortrees.org/.
In 2021 over 1000 trees were planted near Crickhowell, many by Critical Care staff volunteers and their families. For some, this was the first time they had opportunity in many months to work with other staff in the fresh air and outside of full PPE. By popular request the wood is called 'Gwreiddiau Gobaith' – Roots of Hope. This has been translated into the mother tongue of critical care staff members; over 20 different languages are represented from Europe, Africa, Asia, and South America.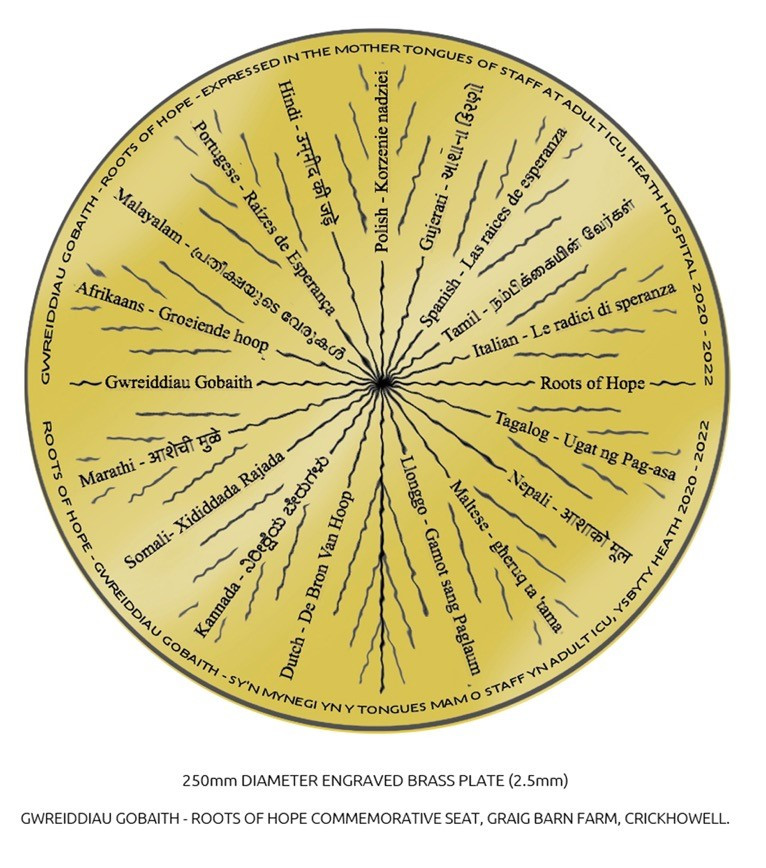 Our hope is to continue this rate of planting; 1000 trees per year, on a permanent basis. £5 will fund planting a tree with aftercare to help develop it through to maturity.
It is difficult for our scheme to dedicate specific trees to individuals, but our patients and families of those who have recovered or sadly died are very welcome to help plant trees with us during the planting seasons – autumn and spring. If you wish to plant trees, please contact us on: fundraising.cav@wales.nhs.uk
We are helping to create natural forests that will benefit future generations of Wales, and its wildlife by also promoting biodiversity. Our present planting site can be visited either to help plant and maintain the trees, or to just sit in quiet contemplation and remembrance of family and friends. in future, other planting may be on private farmland managed by farmers who have committed to the long-term re-wilding their land, and those projects may need to be appreciated from a distance.
The Critical Care Green Future Fund is hosted by Cardiff & Vale Health Charity and is managed by Critical Care staff. Beyond tree planting, the fund may be used for other sustainability projects that help staff to come together and generate a sense of pride in giving back to future generations in Wales. These include funding staff litter picks and beach cleans, staff bursaries which fund staff education and development in relation to sustainability and quality improvement projects that reduce unnecessary use and waste.
If you would like to support the Critical Care Green Futures Fund and help them reach their target of £10,000 by holding a fundraising challenge, we would love to assist you with your fundraising, follow your story and ultimately support you to reach your goal!
You can also text GREENFUTURE to 70590 to donate £5. Texts will cost the donation amount plus one standard network rate message. Alternatively, please visit www.justgiving.com/campaign/CriticalCareGreenFutures
For any advice or assistance, or to discuss your ideas, please contact us via fundraising.cav@wales.nhs.uk and our fundraising team would be delighted to help.
You can visit the Shaping Our Future Sustainable Healthcare website to learn more about the work that Cardiff and Vale University Health Board is doing to become a greener, more environmentally friendly place to live and work, and to contribute to sustainability in healthcare delivery.