Fundraising
Should I contact the Charity office if I want to fundraise?
Yes please. We are here to support you. We are really keen to help you promote your event or activity and to share your success to inspire others. The Health Charity depends on donations and fundraising in order to make a difference to patients' experience of our services.
What can I use to help with my fundraising?
We have a range of fundraising materials available to you and we can provide you with useful advice to support you and ensure your fundraising is a success. If you would like to fundraise for the Health Charity, please contact us to obtain a fundraising agreement form.
Check out our Resources section to find copies of blank posters and sponsor forms that you can use.
What does the Charity need from me?
We'd love to hear from you before you start fundraising so we can make sure that you have all you need. We can register your event on our calendar and help with promoting it. Please email fundraising.cav@wales.nhs.uk
Please take photographs during your fundraising event if possible. Please ensure you have consent from those in your photos.
If you need someone from the Health Charity to attend the event or say a few words please let us know and we will do our best to support you.
Please let us know how things went, who was involved and whether you have any plans to do it again.
Raffles/Lotteries
The same rules apply to raffles and lotteries (legally they share the same definition). Tickets may not be bought or sold by under 16's.
Private lotteries – A licence is not required if a raffle is held at a workplace or club as long as the raffle is only held on the premises and sold to members.
Small lotteries – You may sell raffle tickets at a social event but ticket sales and the draw must take place at the event.
Public lotteries – A raffle that is open to the public or that takes place over a period of time must be licensed. Please contact the charity if you want to hold such a lottery.
Please note: raffles should NOT be held on wards and sold with cloakroom tickets if the draw is completed at a later date.   The charity team can provide official raffle tickets when requested.  Please contact us to discuss any raffles you wish to hold.
For more detailed information, click here for guidelines issued by the Gambling Commission.
The link takes you to http://www.cardiffandvaleuhb.wales.nhs.uk/home for guidelines.
Specific fund within the donation section is needed.
Obtaining raffle prizes
Please don't make approaches to companies for raffle prizes unless you have a personal contact and then please let us know for our records. Cardiff & Vale UHB must avoid multiple approaches to companies etc for prizes so if you need a raffle prize we will happily send out a letter on your behalf if you will provide the details.
JustGiving
One of the easiest ways to promote your fundraising is to set up a page on JustGiving enabling all those supporting you the option to donate online. Your details are safe; JustGiving will not be sold on or send unwanted e mails. Once you receive donations your money will be sent directly to our charity and make sure Gift Aid is reclaimed on every eligible donation by a UK taxpayer.
Go to the JustGiving website and please let us know if you are setting up a page.
Sponsored Events
Here are some useful tips:
Once you have decided on the event you must contact us first to authorise it for you. This means you will have official sponsorship forms to use accompanied by a letter from us, which may help if you want to ask for sponsors at school or work.
It is illegal to stage house-to-house collections without a proper licence. Do not collect money in the street or other public place without a licence from your local authority or the police. We recommend you arrange a fundraising event rather than a collection. If you are planning a collection then the fundraising department can supply you with collection buckets.
To make it easier to collect sponsorship money, set a date by which you want to collect it and make it clear on the form. Also make sure you follow sponsorship up quickly after the event or even upfront. (if your event doesn't go ahead or you do not participate for some reason, you must inform your sponsors and offer to return their sponsorship unless of course your challenge is postponed).
A good way to stage a sponsorship event is in a group, as you will motivate one another and have a wider pool of resources. A big enough event may attract media attention too.
Don't be afraid to go it alone. A sponsored slim, walk or bike ride are easy to organise and once you have collected your list of sponsors, the motivation will be there.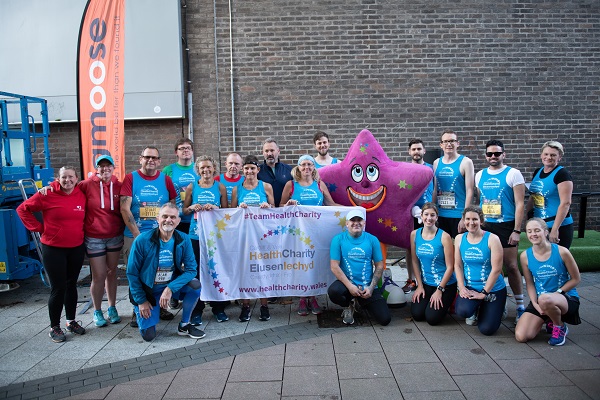 Collections
Money cannot be collected by anyone under 16 years of age (18 in London). Public collections need permissions and licences depending on the venue. You will need a licence for a street collection or to collect door-to-door. Collections on private property need permission. Please contact the Health Charity if you wish to undertake a collection.