Gifts in Wills
Each year our income from gifts in Wills significantly supports our work and helps us make a difference to patients who use our services. Making a gift in your Will, be that a percentage of your estate, a lump sum, shares or a valuable item, is a generous way of helping make a difference to patient care.
After providing for loved ones, we would like to ask you to consider leaving the Health Charity a gift in your Will, so that together we create a lasting legacy.
What is a legacy?
A legacy is any gift (monetary or asset) left in a person's Will; an instruction for part of your estate to be given to an individual or organisation after your death.
Why leave a gift in my Will to Cardiff and Vale University Health Board?
The NHS is available on demand to provide healthcare services to the whole of Cardiff and the Vale of Glamorgan and receives its budget from local government.
The Health Charity provides support, by providing additional items and service improvements which are over and above what NHS funding allows. Large or small, your legacy donation can make such a difference to our patients and staff across the organisation. After you've taken care of the people closest to you, a gift in your Will could help us in so many ways. Some examples are: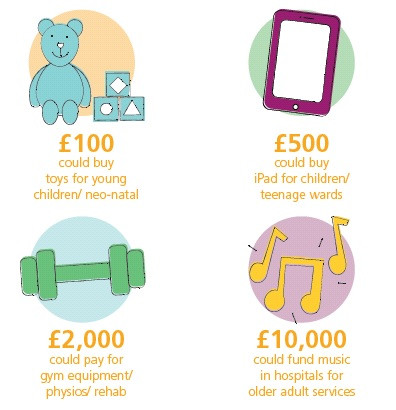 What happens to my money if I leave a gift in my Will to Cardiff and Vale University Health Board?
We often find that when donors choose to remember us in their Will that they make a general donation, so that our clinical staff can decide where it's needed most; others make a gift in their Will to a service of their choice that either they or their family or friends have personal experience of. Whatever your personal choice, as the Health Charity manages the charitable funds on behalf of the Health Board, we are able to listen to and support your wishes.
The Woods Family wanted to help improve facilities for medical students. Leaving the Health Board a gift in their Will meant that the family funded a new, bespoke Medical Education Skills Suite at the University Hospital of Wales. This new suite helps to equip our future doctors and nurses with essential skills for their career in a safe environment.
A generous gift in Will of £90,000 helped fund 'Our Orchard – Ein Berllan' at University Hospital Llandough (UHL).
Our Orchard – Ein Berllan is a unique outdoor project created to provide patients, staff and visitors with a dedicated space for recovery, rehabilition and relaxation.
It includes a semi-natural planted area set aside for the protection of plants and wildlife, wildflower meadows and a bee sanctuary. It also provides an opportunity for you to Dedicate a Tree in memory – providing a unique opportunity to remember a loved one and provide a long-lasting tribute that can be visited time after time.
The vision for Our Orchard – Ein Berllan is to create a unique space which will become a legacy for generations to come. No NHS monies are used in this project and all funding is received through donations to Cardiff & Vale Health Charity.
Next steps to leaving a gift in your Will to Cardiff and Vale University Health Board
Talk to us about your wishes by calling 029 218 36042
Email us at fundraising.cav@wales.nhs.uk
Visit our website: healthcharity.wales
You can download a copy of our booklet on leaving a gift in your Will. Yn Gymraeg
Thank you for considering supporting healthcare services in Cardiff and Vale of Glamorgan for the next generation through a gift in your Will. Your kind donation will allow us to continue the important work we are doing to help patients, staff, volunteers and visitors, for generations to come.
Cardiff and Vale University Health Board will be there for you and your loved ones, whenever you need us and for every stage of life.