Volunteering
There are many ways to donate and it doesn't always mean giving money. We rely on our brilliant team of volunteers who help us promote events and help spruce up our hospital surroundings. Whatever your background, and however you help, you'll find that volunteering for the Health Charity is both rewarding and fun.
Volunteering is any activity or service that involves spending time, unpaid, doing something that benefits someone else, the local community or the environment.
There are many benefits to volunteering, both for the volunteer and the community. Volunteering provided a great opportunity for personal development; it's a way of gaining confidence and learning new skills or putting your existing skills to good use.
Volunteer at our Fundraising Pod
Many of our supporters are grateful family members who want to give something back to the Health Charity for the care they have have received.
So that we can provide them with the best support possible, we've set up a fundraising pod within the hospital's concourse area at the University Hospital of Wales. Your role as a pod volunteer could include meeting and greeting our potential supporters, providing them with additional information and any resources they might need and processing one off donations. Many visitors to the pod will be friends and family of current patients, a warm and friendly disposition is really important.
Volunteer at events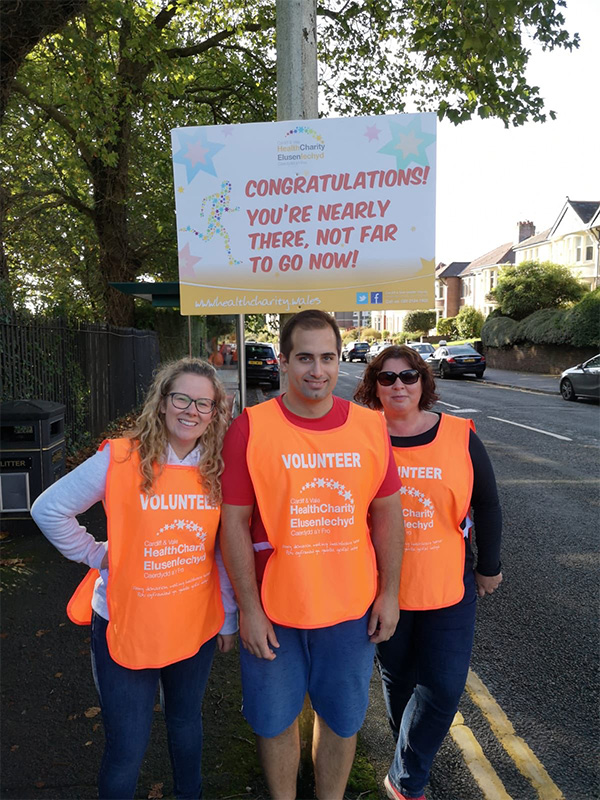 We are always in need of volunteers to help us at events. Our events are a great opportunity to meet new people and raise awareness of the Health Charity's work.
You could be doing anything from selling raffle tickets to registering event participants. If you want to get involved with challenge events but don't fancy running a marathon, jumping out of a plane or climbing Everest, then volunteering at a cheering point could be for you.
Our volunteers are essential to all our events. We couldn't support our fundraisers without the amazing help of our volunteers whether that's through running a cheering point, marshalling a walk or assisting in Our Orchard. Whatever your role, we can guarantee you'll be helping to put the fun into fundraising.
For more information about volunteering opportunities, please email fundraising.cav@wales.nhs.uk