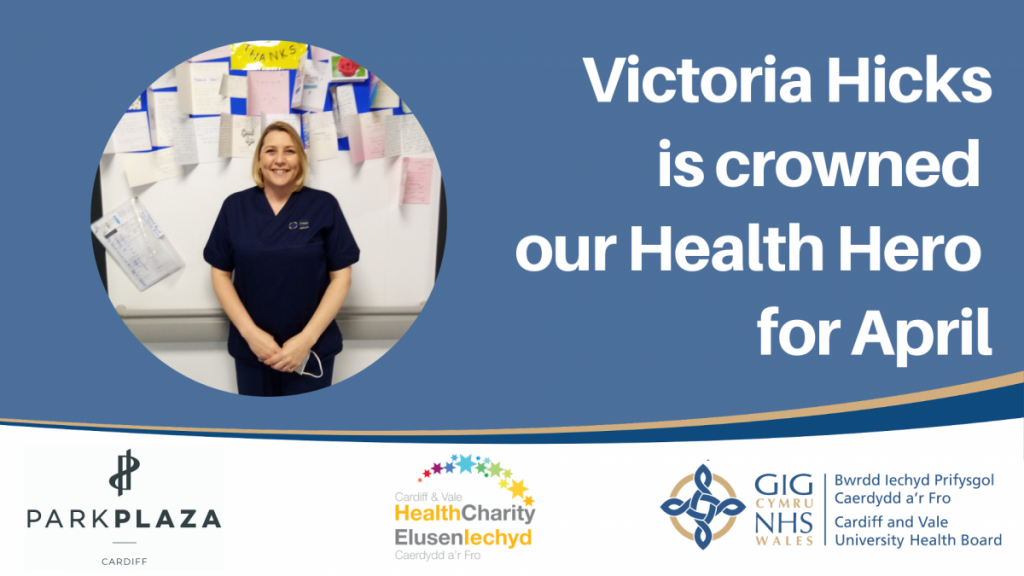 Cardiff & Vale Health Charity is pleased to announce Victoria Hicks, Ward Sister, has been crowned Health Hero for April.
During the pandemic, Vicky worked tirelessly to keep her patients safe. She was also instrumental in facilitating and supporting staff through several moves which had to be undertaken to establish wards for patients both with, and without, COVID-19. All of this was achieved without deputy support. As well as the organising and setting up of these wards, Vicky also decommissioned wards too.
Described as agreeing at a moment's notice, in December 2020 Victoria supported the establishment of the field hospital, Dragon's Heart. She was a core member in setting up the care of recovering COVID and non-COVID patients, and with a team that was rapidly established from nurses in different areas within the UHB and temporary staffing.
Since then, Vicky has continued to support the unit through the setting up of an initial 50-bed Rehab unit, which has now increased to 66 beds, to aid patients with their recovery and enable them to recuperate at home.
Senior Nurse, Sian Brookes said, "Vicky has never shied away from the challenges she has faced, always being there for her staff and patients. She is such a cool, calm character who never seems to be phased by the challenges she faces. Always pleasant and approachable, she is an example to all.
"Vicky truly deserves some recognition. This nomination cannot describe the sheer hard work, dedication and support Vicky has shown and given in the last 18 months. Never looking for recognition or seeing how good she truly is."
Vicky will be Health Hero for the month of April and will receive a treat from sponsors Park Plaza Cardiff. She is delighted with the award nomination.
The Health Hero Award is supported by Cardiff & Vale Health Charity and Park Plaza Cardiff.
If you feel you know someone who has worked tirelessly to help a colleague or patient in healthcare settings throughout Cardiff and Vale University Health Board and deserves recognition then let us know about them.
To nominate your Health Hero: Email: fundraising.cav@wales.nhs.uk
Nominations must include: Your name, contact details, the nominee's name and role, plus some words explaining exactly why you think they deserve to be crowned Health Hero.
If you have already nominated someone, they will be automatically entered into the next round for consideration for the award.
Tweet #CAVhealthhero to spread the word and show your support for our fantastic NHS!