Made possible with Staff Lottery funding, and as part of the 'Cardiff Royal Infirmary: People, Places, Future' project, the Tredegarville School Church year 5 pupils were given an opportunity to produce their own book of stories about Cardiff Royal Infirmary following workshops with actor Daniel Buck.
Daniel delivered innovative creative writing, improvisation and role-playing workshops which are designed to improve oracy and writing skills through acting and storytelling. Daniel was joined by illustrator Holly Raddy, who is delivering drawing and illustration sessions, and photographer Lisa- Marie Mansfield who is capturing images for the school.
The pupils thoroughly enjoyed the project, and were able to develop practical storytelling skills and creative writing habits, drawing on local inspirations to evoke imaginative ideas and characters, and demonstrating support for the local community. The school staff members also provided support and enthusiasm during the sessions.
The collection of stories is described as "bizarre, funny and insightful" by Daniel, and gives the reader an insight into the imagination of a 9-10 year old person. The book has created a permanent legacy which both celebrates the iconic building from a young person's perspective, and communicates Cardiff and Vale University Health Board's core values for a future health service to the community.
V Constantinou, the Headteacher of Tredegarville C.I.W Primary School said: 'I just wanted to write to say a huge thank you to you, Daniel and Holly. The children have been presented with their own copy of the finished book today (as have I!) as they are thrilled. I asked them what they thought when they saw the finished book and they said "dumbfounded", "proud" and "excited".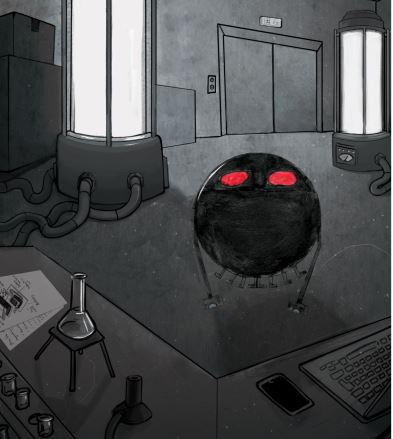 This project has enabled the children to see their work published: this will have a significant impact upon their self-esteem and future aspirations. I wasn't sure what to expect but the outcome has surpassed my expectations.
Such a great collaboration – we look forward to working with you again.'
The project was a success and benefitted all parties involved. You can download the digital version of the book with a suggested donation of £3 to the Arts for Health and Wellbeing Programme, through the Health Charity page. Hard copies are also available to read at the Chapel Library located at the CRI Aroma Cafe
If you're a Cardiff and Vale University Health Bard employee, would like to help fund projects such as this one, and for a chance to win £1,000 each week, application forms can be completed here.
If you would like to apply for funding from the Staff Lottery Bids Panel, please contact fundraising.cav@wales.nhs.uk for details. Cardiff & Vale Health Charity encourages you to join the Staff Lottery and apply for funding, which can enhance your department or service and inform others of the benefits of joining the Staff Lottery. And who knows, maybe you will be our next winner?