The South Wales NET Service provides care for people living in the Cardiff and Vale, Aneurin Bevan, Swansea Bay, Cwm Taf Morgannwg, Hywel Dda and Powys Health Board areas, who are diagnosed with neuroendocrine cancer.
Neuroendocrine cancers are uncommon but increasingly prevalent cancers which are generally slow growing (NETs), although some can be aggressive (neuroendocrine carcinomas). Arising from different organs of the body, they most commonly originate in the gastrointestinal tract. They are diverse, complex and require individualised and expert care.
Patients are referred to the South Wales NET service with initial discussion at the South Wales multidisciplinary team meeting in Cardiff. Care provided includes precise diagnostic assessment, holistic symptom management including nutrition, blood test or biomarker monitoring, surveillance scans, clinical reviews and a variety of therapies or surgery, if appropriate.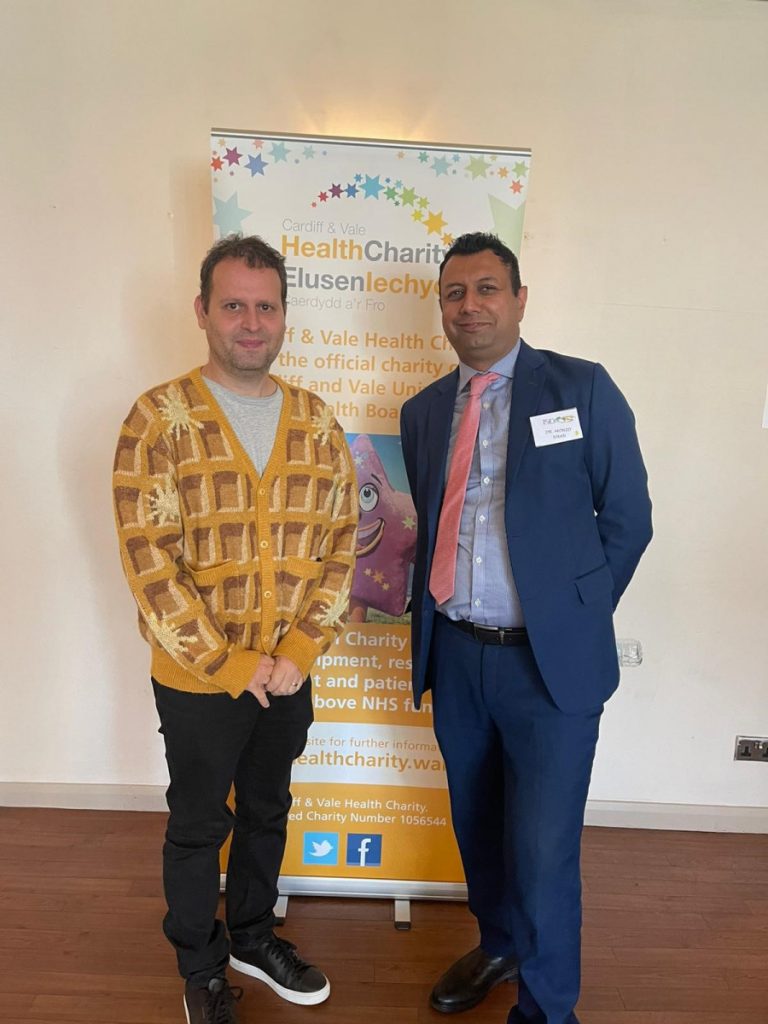 The service is led by Dr Mohid Khan, Consultant Gastroenterologist and consists of a multidisciplinary team including clinical nurse specialists, dietitian, oncologists, gastroenterologists, endocrinologists, general and specialist surgeons, radiologists, pathologists, palliative care, and cardiologists. Due to the varied nature of NETs, patients can have ongoing care under different specialists in various hospitals depending on their needs, and communication with GPs.
After transformation in 2017, the service has won national awards including the UK Patient Experience Network award, been finalist for the British Medical Journal Cancer Team award, and has been recognised by the European Rare Cancer Network (EURACAN) as an expert centre. It is working towards accreditation as a European NET Society Centre of Excellence
Comedian Adam Kay joined patients and staff to celebrate the award-winning South Wales Neuroendocrine Cancer Service and support the Neuroendocrine Cancer Fund.
The event took place at Hensol's Vale Resort on 13th October 2022 and saw members of the South Wales Neuroendocrine Cancer Service and patients share their experiences of the service and its transformation over the past five years.
Author, comedian and former doctor, Adam Kay participated in the event in his role as ambassador of Cardiff & Vale Health Charity's South Wales Neuroendocrine Cancer Fund.
The Neuroendocrine Cancer Fund will endeavour to support innovative projects and research activities to improve care for patients in Wales whilst developing a better understanding of the cancer, how it can be detected earlier, and for the development of new therapies and management strategies.
If you would like donate to support the service you can so by visiting www.healthcharity.wales/donate