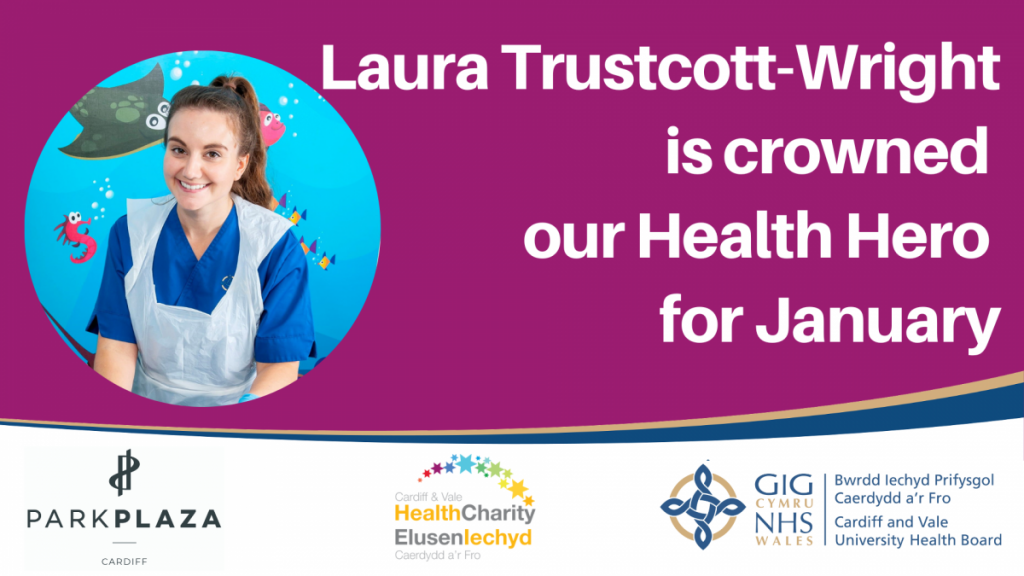 Cardiff & Vale Health Charity is pleased to announce Laura Trustcott-Wright, WellChild Parent Trainer Nurse, has been crowned Health Hero for January.
Laura has been instrumental in bringing and leading a Wales-first Better at Home Training Suite to Cardiff and Vale University Health Board. The Suites are designed to help support parents and carers with how to meet the needs of their seriously ill children, within a safe space to prepare for providing care in the home.
Alison Davies, Senior Nurse of Children, Young People and Family Health Services said, "Within Cardiff and Vale University Health Board we are extremely proud of the work Laura has undertaken as a WellChild Parent Trainer and the impact she has made in such a short space of time. Laura has an infectious zest for life and a 'can do' attitude that is truly inspirational. She demonstrates strong leadership and advocates for the children and young people in her care on a daily basis."
You can read more and watch a video on the work Laura has undertaken here.
Laura will be Health Hero for the month of January and will receive a treat from sponsors Park Plaza Cardiff. She is delighted with the award nomination.
The Health Hero Award is supported by Cardiff & Vale Health Charity and Park Plaza Cardiff.
If you feel you know someone who has worked tirelessly to help a colleague or patient in healthcare settings throughout Cardiff and Vale University Health Board and deserves recognition then let us know about them.
To nominate your Health Hero: Email: fundraising.cav@wales.nhs.uk
Nominations must include: Your name, contact details, the nominee's name and role, plus some words explaining exactly why you think they deserve to be crowned Health Hero.
If you have already nominated someone, they will be automatically entered into the next round for consideration for the award.
Tweet #CAVhealthhero to spread the word and show your support for our fantastic NHS!