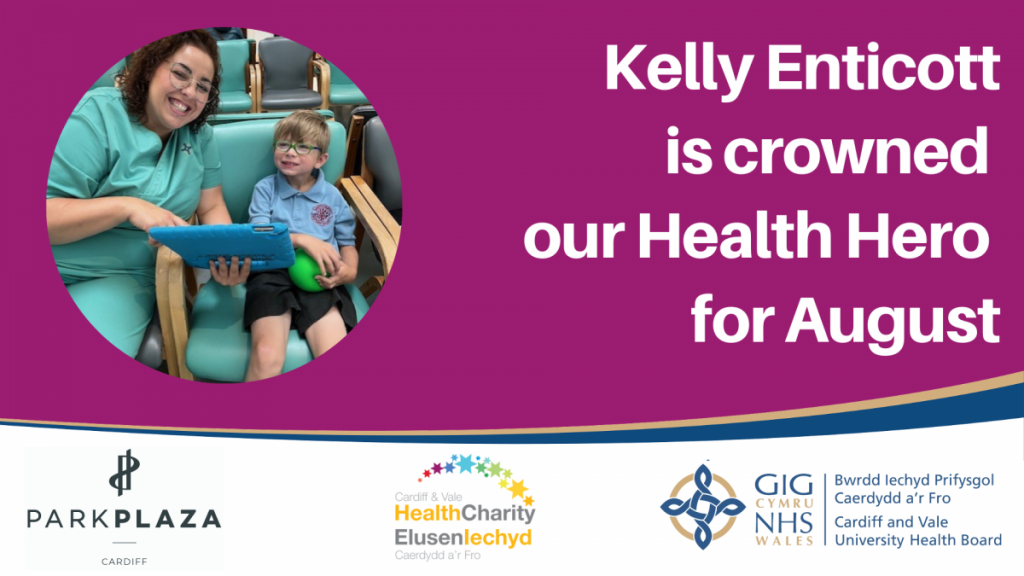 Cardiff & Vale Health Charity is pleased to announce Kelly Enticott, Play Therapist at Cardiff and Vale University Health Board, has been crowned Health Hero for August.
Nominated by the Spencer Family, Kelly has spent a lot of time with their son, Jake. When discussing the nomination, Rachel said, "Kelly has seen my son Jake a number of times to help prepare him for procedures that he finds enormously distressing. Simple things like changing his PEG feeding tube or taking bloods would take hours due to the level of fear and trauma for Jake.
"During a few sessions with Jake, Kelly has managed to get to know him so well that she has tapped in perfectly to what works for him to calm him. Her incredible communication skills and intuition with children means that he feels listened to and validated."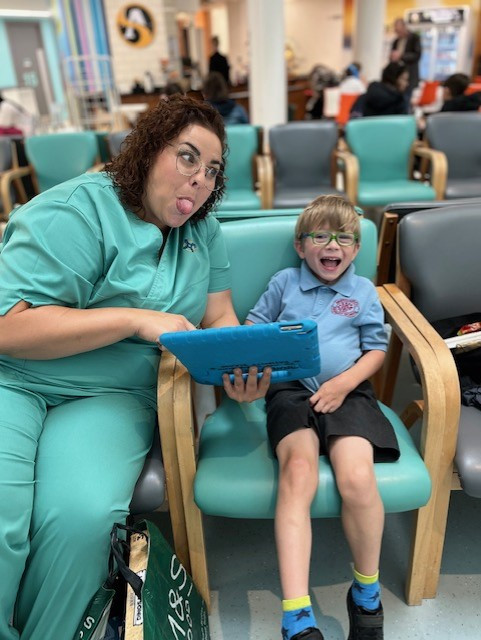 Aged 6, Jake struggles to communicate easily and directly, but through Kelly's great techniques and personality, she has found ways to get Jake to express his worries. Now, Jake's PEG changes have gone from taking hours to a matter of minutes with minimal anxiety with thanks to Kelly's patience and tailored resources.
Rachel said, "We cannot thank her enough and feel that she really goes above and beyond – and we know we're by no means the only family who have benefited from working with Kelly. Thank you so much."
Play Services Manager, Sue Reardon said, "Kelly is a committed and hard working member of the Therapeutic Play Department. She supports her patients through their hospital journey by firstly building a trust with them to enable her to work therapeutically with each one, with the end resulting in positive outcomes. Kelly will use various methods of therapeutic play to enable the children to overcome their fears/anxieties surrounding their hospital admission. She is an integral part of the Therapeutic Play Department."
Kelly will be Health Hero for the month of August and will receive a treat from sponsors Park Plaza Cardiff. She is delighted with the award nomination.
The Health Hero Award is supported by Cardiff & Vale Health Charity and Park Plaza Cardiff.
If you feel you know someone who has worked tirelessly to help a colleague or patient in healthcare settings throughout Cardiff and Vale University Health Board and deserves recognition then let us know about them.
To nominate your Health Hero: Email: fundraising.cav@wales.nhs.uk
Nominations must include: Your name, contact details, the nominee's name and role, plus some words explaining exactly why you think they deserve to be crowned Health Hero.
If you have already nominated someone, they will be automatically entered into the next round for consideration for the award.
Tweet #CAVhealthhero to spread the word and show your support for our fantastic NHS!