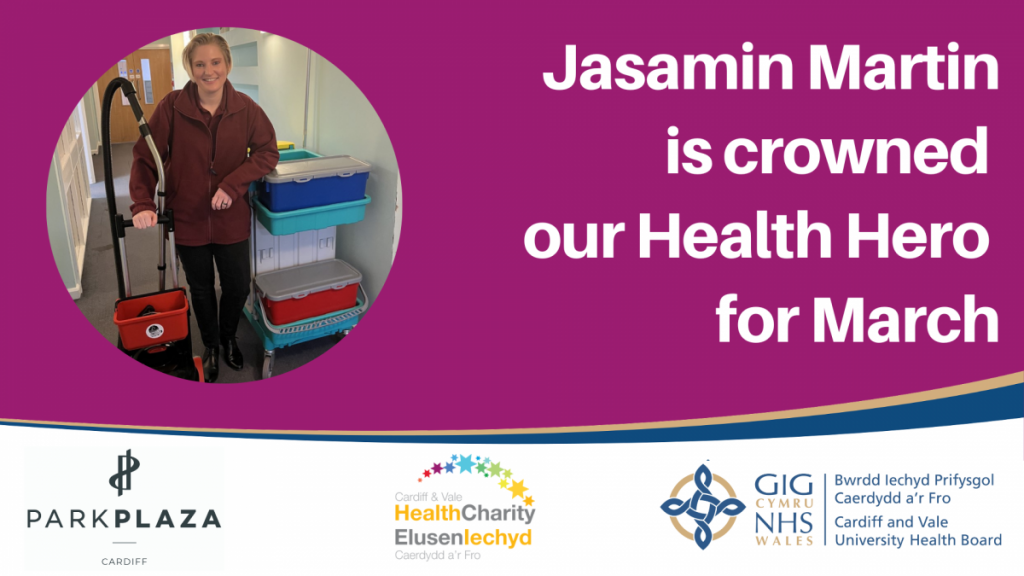 Cardiff & Vale Health Charity is pleased to announce Jasamin Martin, Housekeeping Team Leader, has been crowned Health Hero for March.
Working at Cardigan House, Jasamin has been hailed for her spotless cleaning and stellar attitude, so much so that she has recently been promoted to Team Leader.
Lisa Merriman, Medical Secretary said, "I can't reiterate enough what a difference Jasamin has single-handedly made to our accommodation, and therefore the general wellbeing of our colleagues. Cardigan House is immaculate, and it's so lovely to see Jasamin taking pride in her work, as she absolutely should! She makes coming into work so much easier as the place is bright and clean – door frames, stair bannisters, skirting boards, all have had the 'Jasamin Treatment', and not a speck of dust can be found.
"Having worked in this building for almost 10 years, the standard of cleanliness has never ever been this high, and we cannot thank her enough for all her hard work."
Zoe Jennings, Children's Cystic Fibrosis Nurse Specialist said, "Jasamin is absolutely amazing. She always arrives with the biggest smile and a kind word for everyone. She is an absolute pleasure to have around the office. She brightens our days and checks in on each team member and is very much part of the team herself. I really believe she deserves a treat for all her hard (and back breaking) work."
Jasamin will be Health Hero for the month of March and will receive a treat from sponsors Park Plaza Cardiff. She is delighted with the award nomination.
The Health Hero Award is supported by Cardiff & Vale Health Charity and Park Plaza Cardiff.
If you feel you know someone who has worked tirelessly to help a colleague or patient in healthcare settings throughout Cardiff and Vale University Health Board and deserves recognition then let us know about them.
To nominate your Health Hero: Email: fundraising.cav@wales.nhs.uk
Nominations must include: Your name, contact details, the nominee's name and role, plus some words explaining exactly why you think they deserve to be crowned Health Hero.
If you have already nominated someone, they will be automatically entered into the next round for consideration for the award.
Tweet #CAVhealthhero to spread the word and show your support for our fantastic NHS!