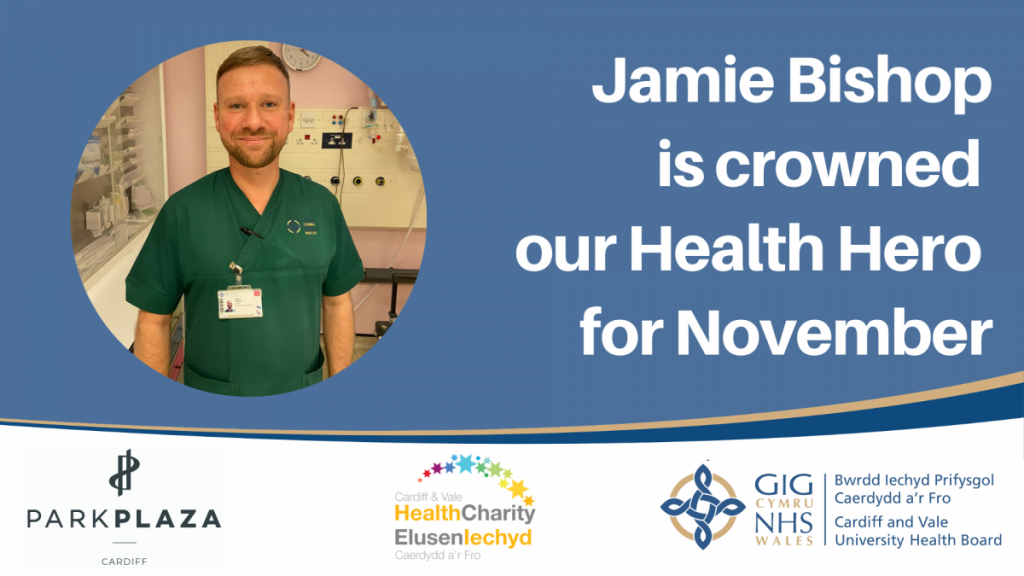 Cardiff & Vale Health Charity is pleased to announce Jamie Bishop, Health Care Support Worker, UHW has been crowned Health Hero for November.
Described as continually going above and beyond for patients and staff, Jamie is often hailed for his kindness, compassion and exemplary work ethic. One of many examples that shows how deeply he cares about the patient experience, is how Jamie bought a specific attachment for a patient's phone so that they could use it whilst lying flat due to a spinal injury.
Catherine Morris, Senior Nurse Emergency and Acute Medicine said, "Jamie embodies the UHB values and his colleagues absolutely adore him. He is kind, sweet and very funny, and support others who are new to the department and ensure they settle in, and eases any of their worries. As a Senior Nurse I take inspiration from Jamie, and he is a role model to me as he reminds me of how important it is to remain calm under pressure, to treat everyone with kindness, and the true value of a caring nurse.
"Jamie ensures our dementia patients have distraction tools to help them feel comfortable in a strange environment and he will maintain their dignity through treating them as individuals. Working in such a busy environment can be very stressful for staff, yet Jamie takes it in his stride and does not falter on his values or allow his own stresses to affect the care he provides.
"Jamie is currently in university studying to become a registered nurse, and the nursing profession will be a richer place with Jamie in it."
We wish Jamie all the best with his degree.
Jamie will be Health Hero for the month of November and will receive a treat from sponsors Park Plaza Cardiff. He is delighted with the award nomination.
The Health Hero Award is supported by Cardiff & Vale Health Charity and Park Plaza Cardiff.
If you feel you know someone who has worked tirelessly to help a colleague or patient in healthcare settings throughout Cardiff and Vale University Health Board and deserves recognition then let us know about them.
To nominate your Health Hero: Email: fundraising.cav@wales.nhs.uk
Nominations must include: Your name, contact details, the nominee's name and role, plus some words explaining exactly why you think they deserve to be crowned Health Hero.
If you have already nominated someone, they will be automatically entered into the next round for consideration for the award.
Tweet #CAVhealthhero to spread the word and show your support for our fantastic NHS!