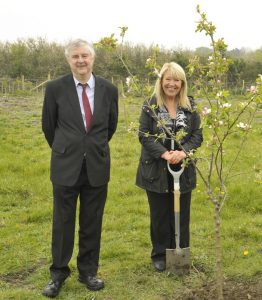 Cardiff & Vale Health Charity recently had the pleasure of welcoming the First Minister, Mark Drakeford to Our Orchard at University Hospital Llandough (UHL) to plant a tree which will blossom and grow for the future.
The First Minister was joined by Maria Battle, Chair of Cardiff and Vale University Health Board (UHB), Jane Hutt AM, members of the Executive Team and staff to plant an apple tree.
The Our Orchard project will bring to life the vision of a community orchard to the fields surrounding the hospital site. The Health Board is working with partners to establish this innovative project which is believed to be the first of its kind at a hospital site in the UK.
Our Orchard at UHL has been inspired by individuals and communities interested in creating a sublime ecological area to support health and wellbeing.
Maria Battle, Chair of Cardiff and Vale UHB said: "It was a pleasure to welcome the First Minister to Our Orchard to plant a tree, and to show him around this beautiful site, which is supporting the Health Board's commitment to the Wellbeing of Future Generations Act. I look forward to visiting the orchard in the coming months to see the latest developments at site."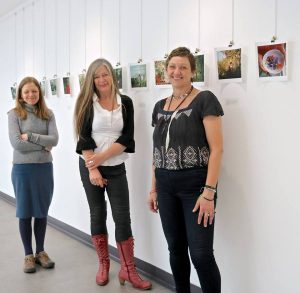 Following the tree planting, the group visited The Hearth Gallery to look at the latest exhibition – Wellbeing, Nature, Spaces and the feminine by three women artists – Catherine Lewis, Vaida Barzdaite and Nick Davies. The exhibition features a number of different media including textiles, print, photography, drawing and a creative space for conversation, thought and making.
Our Orchard team recently took part the RHS Cardiff show winning Best Blossoming Bed and a Silver-Gilt Medal for their entry based on the orchard site at UHL.
The Health Charity is pleased to be able to offer the community the chance to be a part of this project by dedicating a tree within the Our Orchard.
Dedicating a tree is a unique way to remember a loved one or celebrate a special occasion. This dedication will provide a long-lasting tribute that can be visited time after time – supporting wildlife and the local environment in the process.
The cost of dedicating a tree is £50 and each tree is unique with a personalised dedication label attached. A map will also be provided to help locate the tree.
To dedicate a tree as either a memorial or a unique gift, please contact the Fundraising Team on fundraising.cav@wales.nhs.uk or 02921 841802.