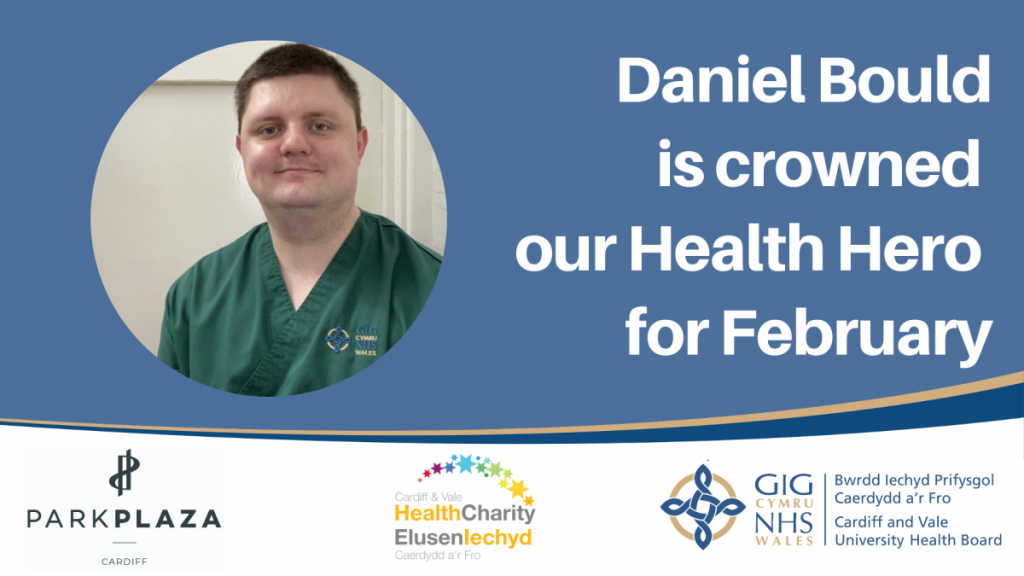 Cardiff & Vale Health Charity is pleased to announce Daniel Bould, Health Care Support Worker, has been crowned Health Hero for February.
Known to all as Dan the Man, Daniel often goes the extra mile on every shift, showing the true spirit of team work and trust values. Described as having a calming nature, staff, patients, and visitors often express how likeable and caring he is.
When speaking to his colleagues, they had this to say; "We are lucky to have Dan at the Stroke Rehabilitation Centre at University Hospital Llandough with his wonderful human nature, the way he treats every patient with dignity and respect, and how he will delay his own breaks or finish times in order to ensure his team mates and most importantly his patients are okay. He is truly worth his weight in gold and could go as far as he wishes due to his intelligence and skills. He is incredibly invaluable to us all."
Dan will be Health Hero for the month of February and will receive a treat from sponsors Park Plaza Cardiff. He is delighted with the award nomination.
The Health Hero Award is supported by Cardiff & Vale Health Charity and Park Plaza Cardiff.
If you feel you know someone who has worked tirelessly to help a colleague or patient in healthcare settings throughout Cardiff and Vale University Health Board and deserves recognition then let us know about them.
To nominate your Health Hero: Email: fundraising.cav@wales.nhs.uk
Nominations must include: Your name, contact details, the nominee's name and role, plus some words explaining exactly why you think they deserve to be crowned Health Hero.
If you have already nominated someone, they will be automatically entered into the next round for consideration for the award.
Tweet #CAVhealthhero to spread the word and show your support for our fantastic NHS!