In December 2020, Cardiff & Vale Health Charity celebrated 10 years of making things better for patients, visitors, staff and the wider community.
The Health Charity had planned to hold a 10-year celebration event, looking back at the major projects it has funded and celebrating the contributions of their donors, fundraisers, volunteers and community partners during the past decade.  Unfortunately, due to Coronavirus these plans were cancelled.  Instead, the Health Charity will be taking a look back at how its fundraisers, donors, volunteers and community partners have helped to change things for the better over the past ten years. Here are just some of the activities and events held by the Health Charity supporters and fundraisers in 2020.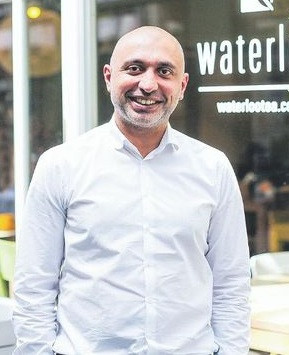 How Feed the Heath and Cardiff & Vale Health Charity have delivered over 23,000 meals to NHS staff.
A big thank you to tea house owner Kasim Ali who has been uniting the local community in order to feed hard-working NHS heroes working alongside Cardiff & Vale Health Charity.
Kasim, who runs the city's Waterloo Tea cafe is one of many ordinary people doing extraordinary things. He's brought together local restaurants, cafes and caterers to provide a steady stream of fresh and nutritious meals to hard-working staff at University Hospital of Wales (Heath) and University Hospital Llandough. They've now delivered in excess of 23,000 meals and 5,000 desserts to frontline workers through the Feed the Heath project.
Cai's cycle to Nightingale Hospital
Over a period of 3 days, 12 year old Cai Floyd, completed the mammoth challenge of spin cycling the distance between his home town of Cowbridge in the Vale of Glamorgan, to the Nightingale Hospital in London – a distance of 172 miles/ 276 km.
Cai was first inspired by the generous donation from Welsh footballer Gareth Bale to Cardiff & Vale Health Charity, and decided he wanted to do something too to help support staff who care for patients with Covid 19. He decided on this challenge, set up his fundraising page and he was off – also delighted that one of his first sponsors was Gareth Bales mum!!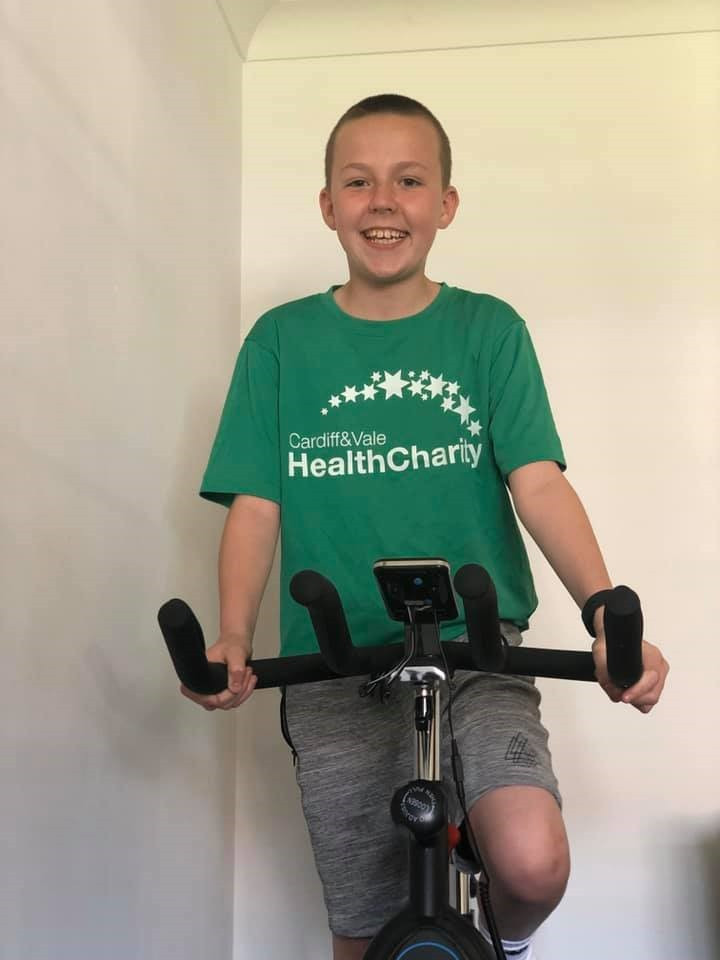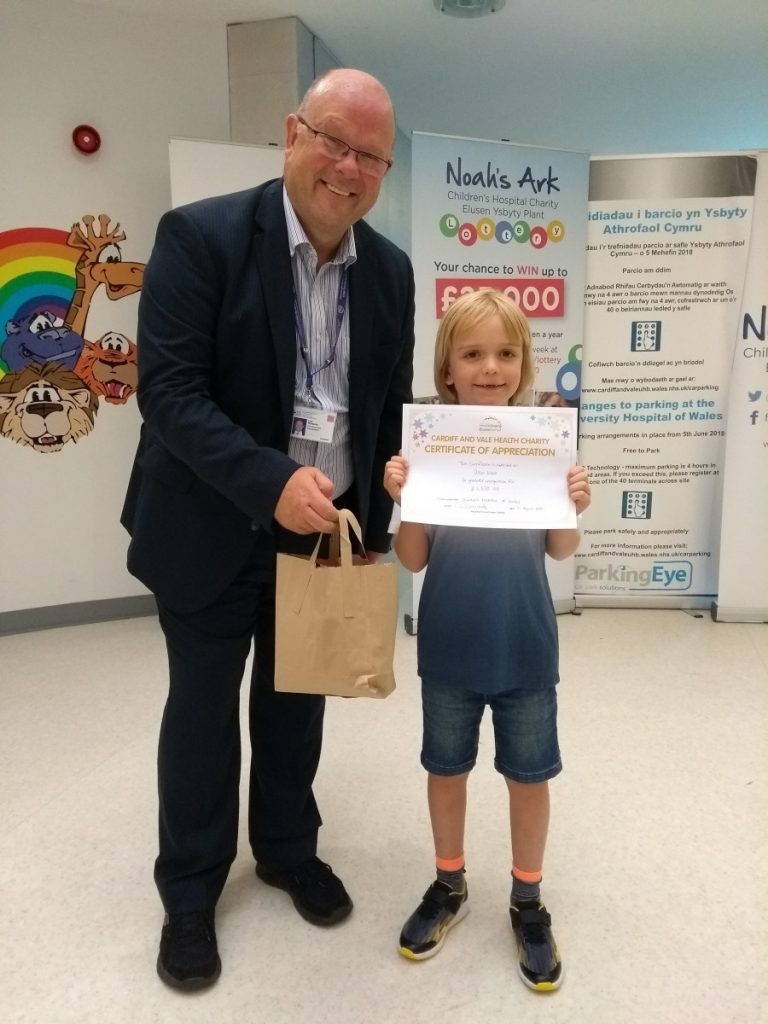 Oscar's pocket money campaign raises £1530
Oscar wanted to do something for young patients in the Noah's Ark Children's Hospital for Wales who had been affected by the pandemic, to show them they weren't forgotten. He wanted to raise money for the children and buy something to help make it better for them while they were in hospital through Cardiff & Vale Health Charity.
So Oscar began a campaign to raise money, by creating call-to-action videos and posters and kicked-off the fundraising by donating his own pocket money and encouraged his friends to do the same.
Christine Kerr's Knit a Rainbow for the NHS
During lockdown, Christine was part of the vulnerable to COVID-19 group due to her underlying health conditions. Despite being in isolation, Christine wanted to show her support for the NHS staff tirelessly working across Cardiff and the Vale of Glamorgan so decided to start fundraising. Christine decided that she would knit a rainbow from Dingle Park in Penarth all the way to the University Hospital Llandough, a total length of 1.5 miles!
Christine also encouraged other people to get involved to help her rainbow grow, and enlisted the help of tight-knit volunteering team; Julie Eyre, Jean Walker and Trish Williams. Christine and co completed the challenge on 9th September 2020, so far raising a fantastic £971.25! Christine wished to donate her fundraising to Cardiff & Vale Health Charity to help support our NHS heroes during their time of needle!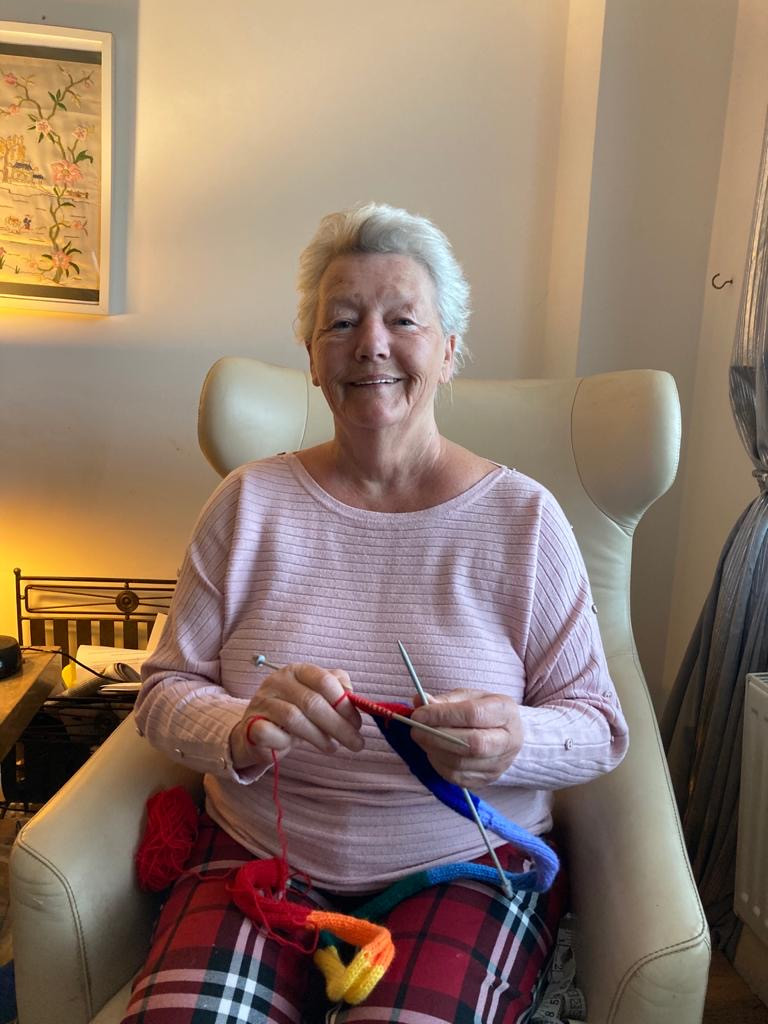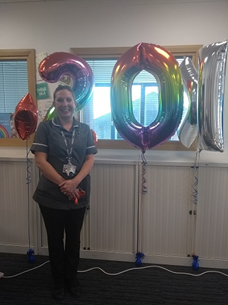 £20,000 Staff Lottery SUPERMEGADRAW Winner
The £20k winner is……..Anna Jones, Community Midwife.
The Staff Lottery SuperMegaDraw took place on Friday 27th November in the Health Charity Office in Woodland House.
Scott Quinnell, Welsh former rugby union and rugby league player, pulled the draws this month, creating four £1,000 winners and our first lucky £20,000 winner!
9 year old runs marathon
A 9 year old girl from Whitchurch decided she would run a marathon in 10 days to raise money for her local NHS charity and she did it in just 7 runs!
When Elinor Roberts, a pupil at Ysgol Gymraeg Melin Gruffydd finished early from school in December, she had been assigned PE as a homework option, so after a chat and much nagging to her Dad, Aled they decided they would run a marathon before she turned 10 on the 31st December 2020.
Elinor started her challenge on 20th December and completed it on 28th December in just 7 runs.