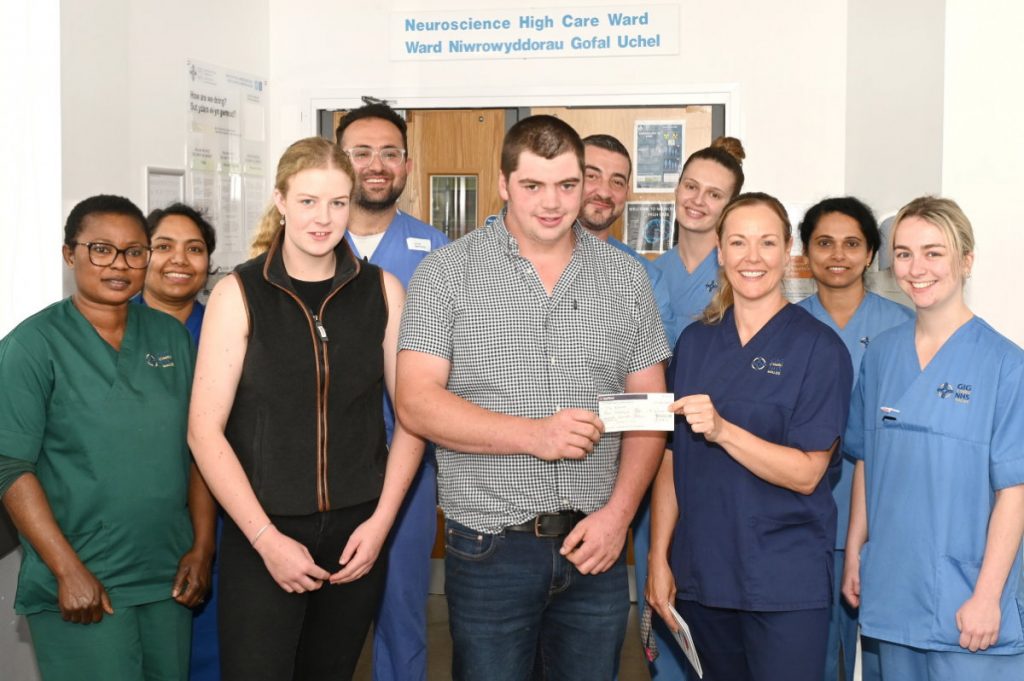 Calfyn Jones, a previous patient on the T4 Ward at the University Hospital of Wales, has recently very kindly donated £4,500.00 to express his gratitude to the staff who cared for him during his time at hospital.
Back in February 2022, Calfyn sustained a serious head injury after a quad bike accident. After the excellent care he received at the T4 Critical Care Ward at the University Hospital of Wales, Calfyn has made a full recovery and is now back at work.
To express his gratitude to the wonderful staff members on the T4 ward, and to the Air Ambulance who were able to relocate him to hospital after the accident, Calfyn organised a tractor run in his local village, raising an incredible £9,000!
The money raised has been equally split and donated to the T4 Ward, and to the Air Ambulance Service. The staff members at the ward recently met with Calfyn and Anwen (Calfyn's mum) to receive the cheque, and thank the ward staff for their hard work.
Helen Bennett, the T4 Ward Manager, said: "Calfyn's extremely kind gesture will have a huge positive impact on the future patients here on T4 neuro. We plan to use the donation towards refurbishment of our patient/relative's quiet room and providing a television for our patients to use and enjoy as part of their recovery here.
We are so happy that Calfyn has made such a good recovery after his accident and will be forever grateful for his fundraising and donation to T4."
We'd like to say a huge thank you to Calfyn for his incredible effort and the generous donation, we are incredibly grateful for your support.
To donate to the Make it Better fund, that supports all patients, staff and visitors across Cardiff and Vale University Health Board, click here.