Cardiff and Vale University Health Board and Cardiff & Vale Health Charity are very pleased to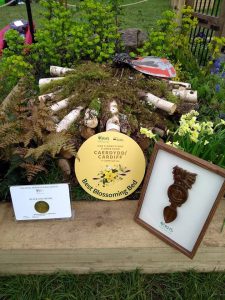 announce they have won a Silver-Gilt medal and Best Blossoming Bed at RHS Cardiff.
The Health Board's Blossoming Bed entry was designed by Garden Designer, Eileen Wood which is linked to the University Hospital Llandough (UHL) Our Orchard project titled: 'We Grow Better Tomorrows When We Plant Good Seeds Today'.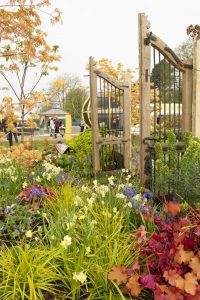 Thousands of people visited the Blossoming Bed with many visitors commenting that the Health Charity display was the highlight of the show.
The winning Blossoming Beds entry depicted a 'mini snapshot' of the seven acre site of Our Orchard at UHL.  The display showed how plants and art can mingle effortlessly to create an area to nourish the senses.  Apple trees and an old gate invited the visitor to enter Our Orchard, whilst large boulders, repurposed from a construction project, created an interesting 'fence'.  Logs were artfully used to create a hog log and insect home.  The stepping stones and sculpture 'Form From Nature' were inspired by the natural world.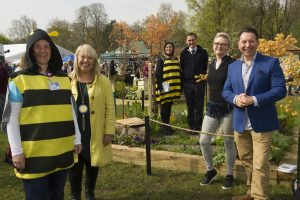 The planting in the bed was inspired by the local area, with red riding hood tulips and narcissus, apple trees and rhubarb which are food productive, pollinator and wildlife friendly.  Acers link with our garden title taken from an inspiring art installation within Hafan y Coed Hospital at UHL.
A cinnabar moth and spider created by sculptor JK Brown were nestled amongst the greenery. A 'Form From Nature' by Dilys Jackson sat beautifully in the bed to create interest.  A hand carved book, by Men's Shed Cardiff depicted the title of our bed.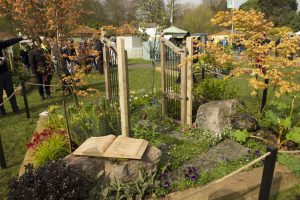 Maria Battle, Chair of Cardiff and Vale University Health Board said: "I was delighted to visit the Health Charity stand at RHS Cardiff and see how beautiful our display was.  It was a pleasure to talk to visitors to the show about the Our Orchard project and the difference it will make to the staff, patients and visitors using the services at UHL.  Hearing the positive feedback from visitors about the Blossoming Bed and the Our Orchard project was wonderful, there were many offers of support from the public to help us make things better for our patients."
Simone Joslyn, Head of Arts and Health Charity for Cardiff and Vale University Health Board said: "We are absolutely delighted to win these awards from the RHS, it's been a real team effort to bring this Blossoming Bed to life.  I'd like to thank Eileen Wood, Men's Shed Cardiff, the activities team at Hafan y Coed Hospital, Natural Resources Wales and our Health Charity team and community volunteers for helping to make this project possible.