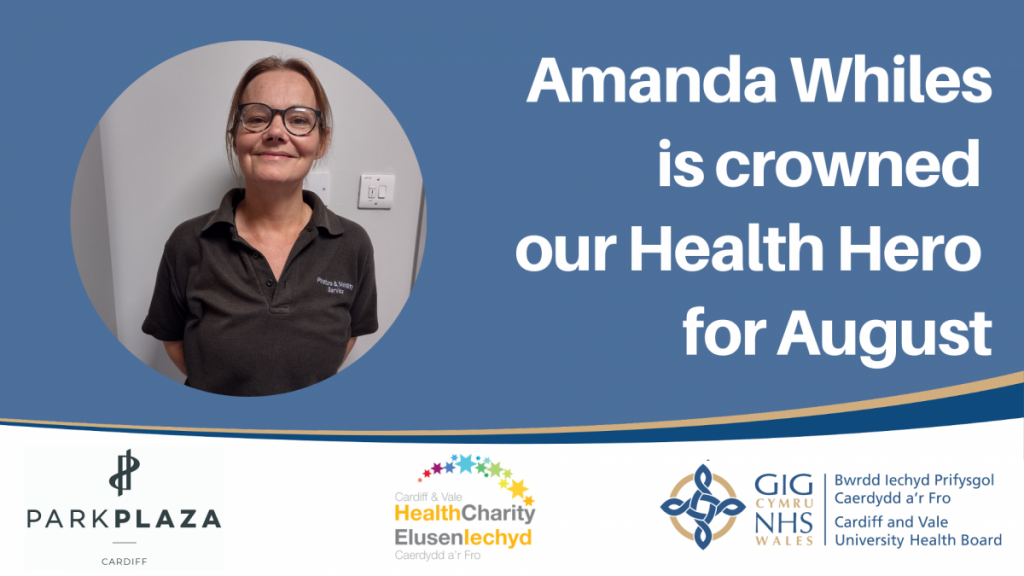 Cardiff & Vale Health Charity is pleased to announce Amanda Whiles, Reconditioning Technician, South Wales Posture and Mobility Service, has been crowned Health Hero for August.
Amanda is a Reconditioning Technician for the South Wales Posture and Mobility Service and her role revolves around processing returned posture and mobility equipment from across South Wales, which is no small feat. The equipment then has to be cleaned and recycled for reuse or if deemed beyond economical repair, it must be prepared for scrapping.
When discussing Amanda's role, a colleague said, "Amanda's always organising the specialised mobility equipment, meaning there are always parts on hand for the Clinicians and Engineers who often require them urgently. Amanda also has a vast knowledge of the huge volume of specialist parts. She will always go above and beyond to help her colleagues and service users."
Paul Rogers, Directorate Manager of the Artificial Limb and Appliance Service said, "Amanda is very methodical, organised, and maintains high standards in the wheelchair reprocessing area of the Posture and Mobility Centre. She is always willing to help and equally happy to cover duties when other areas are short staffed. Amanda's enthusiasm and self-motivation are a real asset to the service and greatly supports patient care."
Amanda will be Health Hero for the month of August and will receive a treat from sponsors Park Plaza Cardiff. She is delighted with the award nomination.
The Health Hero Award is supported by Cardiff & Vale Health Charity and Park Plaza Cardiff.
If you feel you know someone who has worked tirelessly to help a colleague or patient in healthcare settings throughout Cardiff and Vale University Health Board and deserves recognition then let us know about them.
To nominate your Health Hero: Email: fundraising.cav@wales.nhs.uk
Nominations must include: Your name, contact details, the nominee's name and role, plus some words explaining exactly why you think they deserve to be crowned Health Hero.
If you have already nominated someone, they will be automatically entered into the next round for consideration for the award.
Tweet #CAVhealthhero to spread the word and show your support for our fantastic NHS!