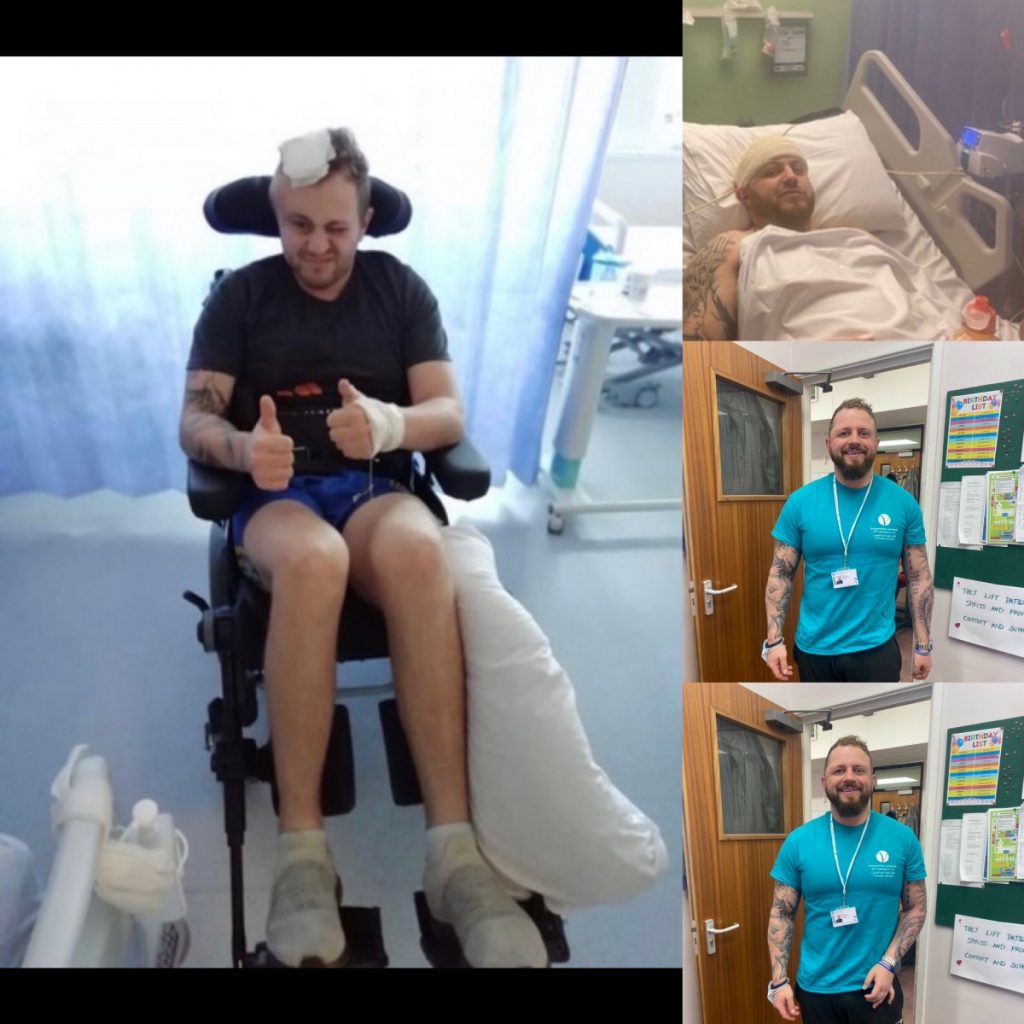 The Voluntary Services Team at Cardiff and Vale University Health Board (UHB) is delighted to welcome ex-patient and hospital fundraiser, Adam Harcombe to the team.
Adam, who was an inpatient at Rookwood Hospital's Neurosciences Specialist Rehabilitation Unit, suffered horrific head injuries, which left him with significant physical and cognitive impairments, including losing his sight in one eye.
Adam's strength of character was evident from day one of his stay at Rookwood Neurorehabilitation Unit. He engaged with his rehabilitation with incredible resolve, so much so that he often had to be reminded to slow down.
With this strength, Adam along with his family, friends and local rugby community, went on to complete a timeline of events in 2021, supporting Cardiff & Vale Health Charity's PROP Appeal and has so far raised £17,350 to help make things better for staff and patients throughout Cardiff and Vale UHB.
As a result of the excellent care he received, Adam decided he wanted to give something extra back to those who looked after him and chose to volunteer on the wards to help improve patient experience and make a difference.
Adam said: "I feel blessed and so fortunate to be in this position that I can walk back into a ward fit and healthy and motivate and inspire the patients to achieve the same thing."
Michelle Fowler, Head of Patient Experience said: "We are delighted to welcome Adam to the team. Having volunteers with lived experience of the hospital and its environment is a such an important thing for other patients to relate to and have empathy with. We hope Adam's enthusiasm for improving patient experience encourages other patients to come forward to volunteer in the future."
Lucie Barrett, Fundraising Manager at Cardiff and Vale UHB said: "Adam is such an inspirational person, despite what he has been through. We admire his drive to give back and make such a positive impact on others. His support will always be appreciated by the Health Charity."
To find out more about volunteering throughout Cardiff and Vale UHB, please visit
https://cavuhb.nhs.wales/our-services/voluntary-services/
To find out more about Cardiff & Vale Health Charity please visit:
www.healthcharity.wales