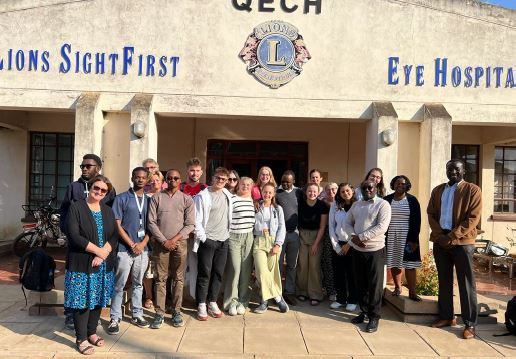 Optometry students, currently on placement at Cardiff and Vale University Health Board, recently undertook a meaningful journey to Malawi, in South Eastern Africa. The lead tutor, Pete Hong, works in the Ophthalmology team at University Hospital of Wales and at Cardiff University. Their mission was to conduct sight tests and provide education to registrars. This initiative received partial support from the Ophthalmology Fund, one of the charitable funds under Cardiff & Vale Health Charity.
During their trip, the students performed sight tests in towns and villages, particularly in Mangochiu and its vicinity. They accomplished an impressive 1,500 eye tests and distributed more than 600 pairs of glasses. Their testing venues included churches, small health centres, eye clinics, and village halls. Overcoming language barriers with the assistance of translators Rodney and Ngwile, the students effectively communicated with their patients. They even faced unexpected challenges, like encountering a chicken in a consulting room!
As the optometry students travelled to more remote areas of Malawi, they witnessed increasingly severe and advanced eye conditions, which was deeply distressing. This emphasized the urgent importance of their mission to provide essential eye care in rural regions.
In addition to their clinical work, the students spent a day at an orphanage, testing the vision of countless joyful children. They provided eyeglasses and low vision aids to those in need, greatly enhancing their educational opportunities. The children at the orphanage also received special gifts: Wales football kits and bubbles, which brought smiles all around.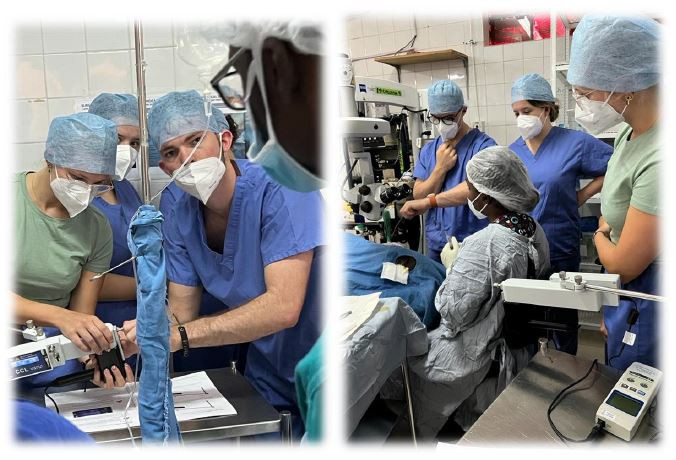 Towards the end of their two-week journey, the team spent two days at Lions Eye Hospital in Blantyre. Here, they had the opportunity to train registrar ophthalmologists in essential skills, including retinoscopy. The ophthalmologists at Lions Eye Hospital were delighted to collaborate with the students, eager to exchange knowledge and practices. The students also observed various eye surgeries during their time there.
A significant aspect of their mission was addressing the vision needs of people with albinism, a condition affecting approximately 1 in 130 individuals in Malawi. The team identified 40 children with albinism in a single village and provided them with sunglasses, hats, and low vision aids for those over the age of 5.
Reflecting on their experience, one student Perran Tustin shared: "The Malawi trip has not only allowed us to develop our optometry skills, but it has given us a whole new perspective on life. Having come from free education, healthcare, a warm home and an endless supply of food we were all humbled and realised just how fortunate we are and have been. None the less, seeing the families having the bare essentials, and sometimes less, it really provided a new perspective seeing everyone so happy regardless of the situation."
With help from funding granted by Cardiff & Vale Health Charity, the students have been able to: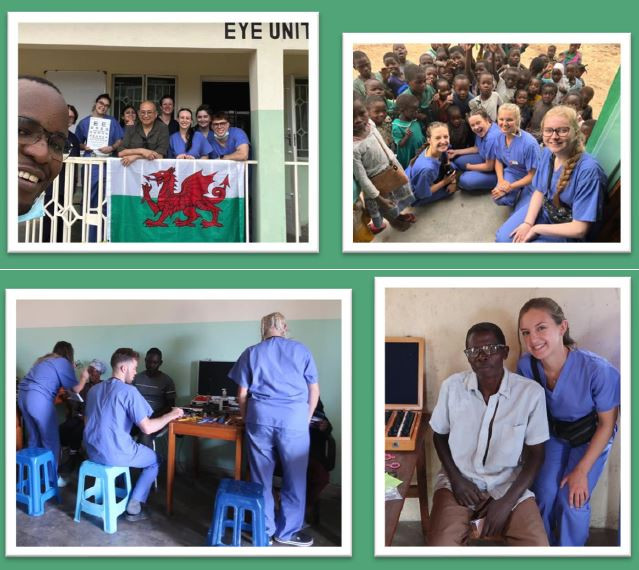 Fund a years' worth of Riboflavin for cross linking surgery
Fund over 200 cataract operations
Give a pair of spectacles to over 600 adults and children
Donate an ICare Tonometer to measure intraocular pressure to the Lions Sight First Eye Hospital in Blantyre
Give a box of low vision aids to the low vision practitioner in the hospital
Provide 40 children with albinism with a hat, sunglasses a low vision aid and sun cream
Give over 150 children in an orphanage at least one item of clothing
Contribute to the funding of an MSc for an optometrist from Blantyre
Give disposable Volk Lenses
Fund treatment for some people with glaucoma, trachoma and herpes simplex keratitis
Cardiff & Vale Health Charity proudly supported this inspiring journey, fostering a stronger connection between Cardiff and Malawi. The trip greatly benefited Malawi's residents by providing essential tests, medication, and equipment. Simultaneously, it enriched the students' skills and cultural experiences, showing how people from around the world can work together in healthcare.