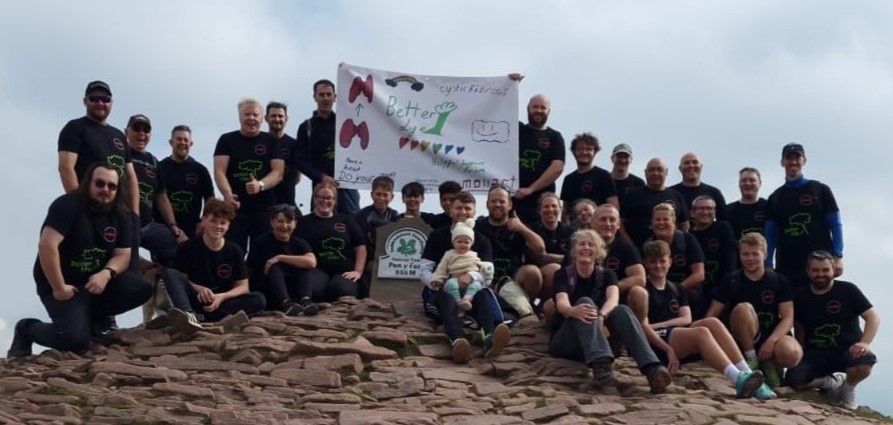 The team at Mollart Resolven Division have recently climbed Pen Y Fan to raise funds for All Wales Adult Cystic Fibrosis (CF) Centre. They made their journey on Friday 2nd September to climb the highest peak in South Wales, and have raised an amazing £2,650 to support the completion of the two side gardens at the CF centre.
The CF Centre is based at University Hospital Llandough. It currently provides specialist Cystic Fibrosis (CF) care to over 350 adult patients from across Wales & the borders.
CF is an inherited condition, where you inherit one faulty gene from each of your parents. Care for CF has changed over the years, starting from a small number of medications used to help improve symptoms to a wide array of medications to help prevent disease. As CF affects so many parts of your body, it can impact almost any part of your life, including your physical and mental health, wellbeing, work and relationships.
The CF Centre is now complete, other than the two gated side garden areas adjoining the centre, which will be used by CF patients only. The team at Mollart Resolven Division would like to support the patients at the CF Centre by raising funds to complete the gardens.
The provision of a new outdoor space to the patients and staff at the CF Centre will be a welcome addition, and will aim to boost their morale and wellbeing by making it more accessible to spend time outdoors and enjoy nature.
We would like to say a huge thank you and congratulations to the Mollart Resolven Division team for completing their fantastic challenge, and for supporting our patients and colleagues at the All Wales Adult Cystic Fibrosis Centre. We hope you enjoyed the views at the top of the iconic Pen Y Fan!
There is still time to support the team at Mollart Resolven Division. To donate, please visit: https://www.justgiving.com/fundraising/Mollart-Resolven-Divison-CF