Good luck and thank you to Adam Harcombe, his family, friends and his local rugby community who have decided to complete a timeline of events in 2021, starting with a 26 mile challenge throughout March to support the Prop Appeal!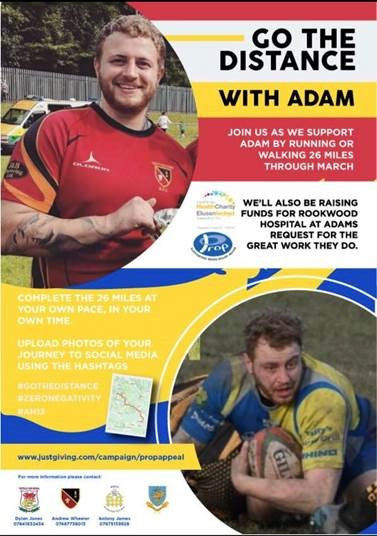 An inpatient at Rookwood Hospital's Neurosciences Specialist Rehabilitation Unit, Adam suffered horrific head injuries, which left him with significant physical and cognitive impairments, including losing his sight in one eye. Adam's strength of character was evident from day one of his stay at Rookwood Neurorehabilitation Unit. He engaged with his rehabilitation with incredible resolve, so much so that he often had to be reminded to slow down.
The Rookwood Physiotherapy Team said "When Adam first came to us he needed help from two people to walk. Due to his determination and commitment to his rehabilitation he made quick progress and by the time he went home he could walk with just the support of a walking stick. We know Adam will continue to improve because of his focus and drive to succeed along with the support of his family and friends".
Eager to support their friend, a group of rugby clubs from Rhondda Cynon Taff all agreed they wanted to do something to raise awareness, show support and raise some funds for Adam.
Friend, Dylan Jones says "Adam is very well liked and respected by many people in our community. He recently created a video, telling his story and showing his progress which was nothing short of inspirational. After seeing this a group of us have set out a timeline of events that will take place this year in order to stand with him in his time of need".
26 miles in March
For the first event, Adam is encouraging people to participate in a socially distanced walk or run of 26 miles throughout March. 26 miles is the total distance between the rugby clubs he has represented. Supporters can donate a suggested donation of £5 or however much they would like and then complete the challenge at leisure.
For more information about the challenge, please contact Dylan Jones, 07841632434
Please visit https://justgiving.com/campaign/propappeal to make the donation.
You can also help Adam raise even more by texting, PROP to 70085 to donate £10. Texts cost £10 plus one standard rate message and you'll be opting in to hear more about our work and fundraising via telephone and SMS. If you'd like to give £10 but do not wish to receive marketing communications, text PROPNOINFO to 70085.
To purchase a #ZeroNegativity t-shirt for £10, with half of the proceeds coming to Prop Appeal, please visit;
You can keep up with news via Twitter @GotheDistanceAH and by using the hashtags #ZeroNegativity #AH12
If you would like more information on the Prop Appeal and how you can help support the Neurosciences Specialist Rehabilitation Unit at Rookwood Hospital please visit contact us via email Fundraising.cav@wales.nhs.uk