The £20k winner is……..Anna Jones, Community Midwife.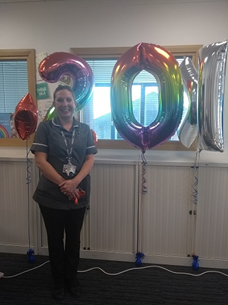 The Staff Lottery SuperMegaDraw took place on Friday 27th November in the Health Charity Office in Woodland House.
Scott Quinnell, Welsh former rugby union and rugby league player, pulled the draws this month, creating four £1,000 winners and our first lucky £20,000 winner!
The lucky winner of the £20,000 November SuperMegaDraw 2020 was Anna Jones, a midwife working in the community. Anna was absolutely ecstatic beyond words to hear the fabulous news saying "I really couldn't believe it when I got the call from Scott Quinnell and it still hasn't completely sunk in, thank you so much! My husband and I are going away for the weekend today to Tenby and we will definitely be celebrating!"
YOUR £1,000 NOVEMBER STAFF LOTTERY WINNERS ARE:
Hannah Tinnuche, School Nursing, Barry
Laura Morgan, Endoscopy, UHL
Stacey Durham, School Nursing, Ysgol Y Deri, School
Julie Whitfield, East 4, UHL
Entry into the Staff Lottery is automatically deducted from your payroll and each entry costs £1 per week. Once you are part of the Staff Lottery you are given an allocated unique number and the winning number is generated at random by computer.
The Staff Lottery supports staff across Cardiff and Vale by creating new winners every month. It also enables staff to apply for funding from the Staff Lottery Bids Panel, which has recently awarded grants of over £1.5 million to support numerous projects across the UHB which benefit, patients, staff and visitors.
Lottery Application form can be completed electronically here and returned to fundraising.cav@wales.nhs.uk.