The Staff Lottery Summer SuperDraw took place in the Health Charity Office in Woodland House with Angela Hughes, Assistant Director of Patient Experience who was thrilled to be asked to pull the draws this month, creating four £1,000 winners and a lucky £5,000 winner!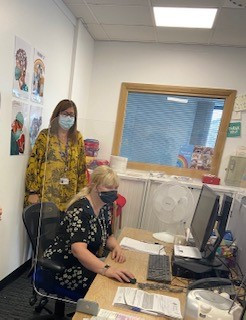 The lucky winner of the £5,000 Summer SuperDraw 2021 was Caroline Ryan, from the Spinal Injury Unit at University Hospital Llandough.
Caroline was ecstatic beyond words to hear the fabulous news saying: "I couldn't believe it when I got the call from Angela, I am absolutely thrilled.  I have recently had a garden makeover; the winnings will come in very handy!"
Congratulations to Caroline and all other winners in June!
YOUR £1,000 and £5,000 SUMMER SUPERDRAW WINNERS ARE;
Cerian Morris, Urology, UHW
Andrea Davies-Tuthill, SSSU, UHW.
Debbie Owen, Health Visiting, Danescourt Health Centre
Lucy Jones, Owl Ward, Children's Hospital
Caroline Ryan, Spinal Unit.  UHL