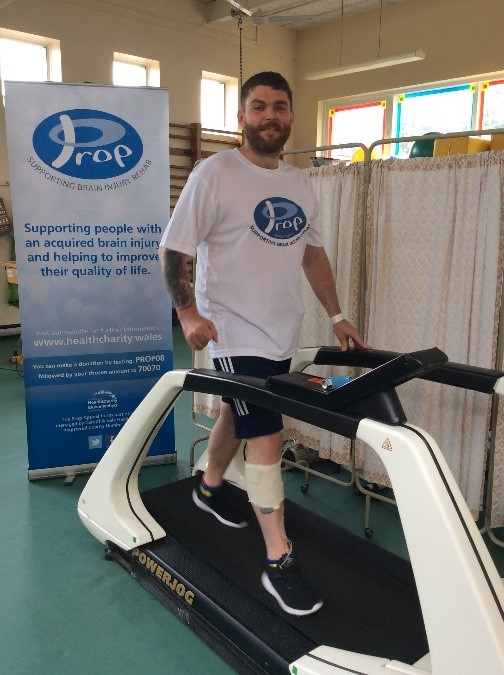 Good luck and thank you to Jamie Colburn who has decided to take part in the Virtual Welsh Three Peaks in support of the Prop Appeal!
An inpatient at Rookwood Hospital's Neurosciences Specialist Rehabilitation Unit, 38 year old Jamie has suffered with addiction over the past few years and sadly suffered an acquired brain injury in May 2020. This resulted in paralysis down his right hand side; additionally suffering with broken ribs and a shattered eye socket. Jamie's family were told he was lucky to be alive, being told to expect the worst and to hope for the best.
Jamie and his family found hope and comfort in religion following his injuries, giving him meaning to his life and compelling him to keep fighting throughout his recovery. Jamie battled through this dark time and has since gone from strength to strength, fighting to regain the use of his right side. A highly compassionate individual, Jamie has also been inspirational; motivating and encouraging the other patients at Rookwood through their own journeys and holds the staff at Rookwood in the highest regard.
As a result of his inspiring and benevolent nature, Jamie wished to raise funds for the Prop Appeal, which supports patients within the unit who have suffered life changing disabilities due to acquired brain injuries. Jamie decided to participate our Virtual Welsh Three Peaks challenge, allocating himself 3 weeks to complete the 17 mile challenge on the department's treadmill in addition to the regular rehabilitation sessions he receives. So far, Jamie has raised a fantastic £356.25 via his JustGiving page and its increasing day by day!
The Rookwood Physiotherapy Team said "When we first met Jamie, he had no movement in his right arm and very little movement in his right leg. He has been so determined with his rehab and has exceeded everyone's expectations, now walking around unaided. He will be missed when he leaves Rookwood but we know he'll go on to do great things."
We at Cardiff & Vale Health Charity very much appreciate this act of kindness and on behalf of all the NHS teams here in Cardiff and the Vale of Glamorgan, we thank Jamie from the bottom of our hearts for his inspiring kindness and generosity once again.
You can help them raise even more by contributing to Jamie's page; https://www.justgiving.com/fundraising/Jamie-Colburn
If you would like more information on how the Prop Appeal and how you can help support the Neurosciences Specialist Rehabilitation Unit at Rookwood Hospital please visit Cardiff & Vale Health Charity's website; https://healthcharity.wales/appeal/prop-appeal/, contact us via email; Fundraising.cav@wales.nhs.uk or make a donation here; https://www.justgiving.com/campaign/stepintosummer