A big thank you to everyone who took part in this year's NHS Big Tea raising money for Cardiff & Vale Health Charity.
The NHS Big Tea 2021 gave an opportunity to celebrate the amazing work of Cardiff and Vale University Health Board staff and give thanks to the NHS for everything it has been through during the past 16 months.
This past year has made everyone feel closer to the NHS. The NHS Big Tea was a call for everyone to join a national outpouring of thanks on or around the Monday 5th July 2021 – which is the official anniversary of the NHS.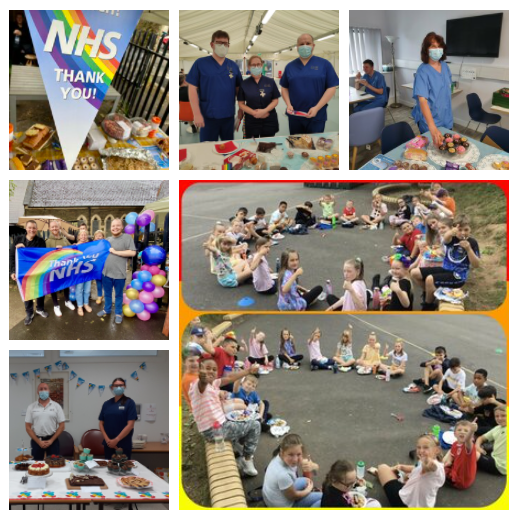 For many, there were shared moments of celebration, outpourings of joy, people giving thanks for the vaccine and all that it allows everyone to do again. For others, it was an opportunity to give thanks, for everything that NHS champions have done during the past year. For some, sadly, it was a moment of reflection for the loss of loved ones.
People got involved in virtually and held socially-distanced tea parties and bake sales with friends and family at work.
The NHS Big Tea events were sponsored by UNISON Cardiff & Vale Health branch and BMA.
NHS Big Tea sessions were held in staff havens throughout Cardiff and Vale University Health Board sites. Staff were treated to delicious treats and snacks kindly donated by:
Tesco Culverhouse Cross, Albany Road, Penarth and Pengam Green stores.
Asda Leckwith, Coryton and Pentwyn stores.
Morrisons Newport Road and Cardiff Bay stores
Memory Lane Cakes
NHS Big Tea parties were held by:
Kasim Ali and the team at Waterloo Tea held parties at their Penarth, Lakeside and Pen y Lan shops.
Nathaniel Cars Bridgend held a tea party for their friends, colleagues and customers in their Bridgend showroom.
Wayne and Wyburn hosted a special tea party at St Andrews Coffee Court.
Morrisons Cardiff Bay held an afternoon tea for their customers.
St Fagans CW Primary School, Year 4 held an afternoon tea party.
Stroke Rehab Centre at University Hospital Llandough held an afternoon tea for their patients, organised by Natalie McCulloch.
Whitchurch Cycling Club, held an afternoon tea organised by Zoe Briffett.
Inpatient Occupational Therapy Department at University Hospital Llandough held an afternoon tea, organised by Carina Almeida.
Jenny Rathbone MS held a tea party at The Maelfa in Llanedeyrn.
Sue Franks Catering also laid on special afternoon tea boxes for customers, each one giving donation to Cardiff & Vale Health Charity.
Thank you to Jenny Rathbone MS and Vaughan Gething MS for attending NHS Big Tea parties along with Vice Chair of Cardiff and Vale University Health Board, Ceri Phillips.
You can still get involved and hold a tea party in July or August or you can simply make a donation by Texting BIGNHSTEA to 70085 to donate £5 Texts cost £5 plus one standard rate message and you'll be opting in to hear more about our work and fundraising via telephone and SMS. If you'd like to give £5 but do not wish to receive marketing communications, text BIGNHSTEANOINFO to 70085.
To make a donation you can visit our Justgiving campaign page.
For more information please email fundraising.cav@wales.nhs.uk