Sarah Phillips, Haematology, Laboratory Stem Cell Unit, UHW
Louise Jenkins, Haematology Day Unit, UHW.
Marie Glyn-Jones, Radiology Department, UHW
Hazel Fletcher, Early Supported Discharge Team, UHL
Sarah Hopkins, Diabetes Centre, UHL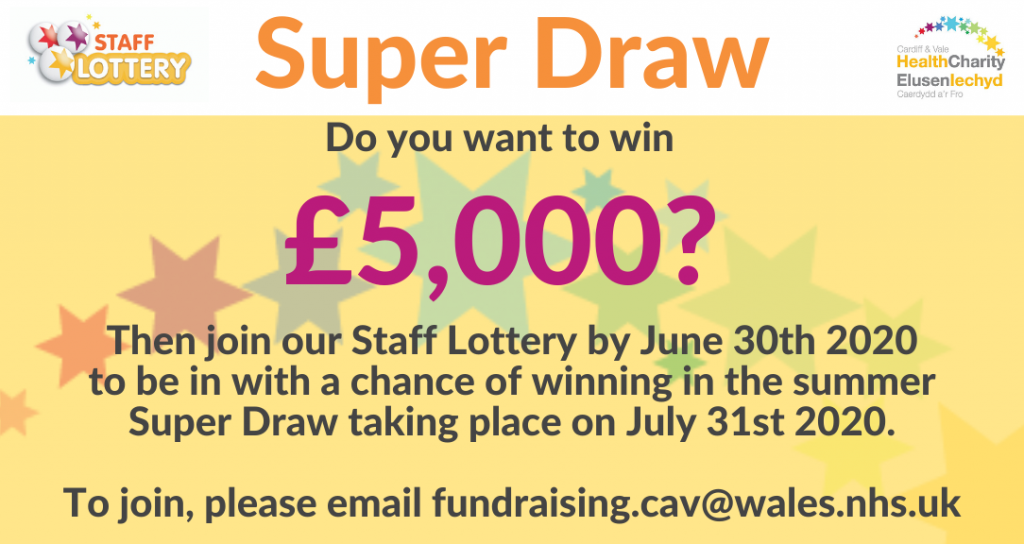 The Staff Lottery in May 2020 helped create five £1,000 winners who were all delighted to hear the brilliant news.
Our next big event, the Summer SuperDraw, is nearly here and will take place on Friday 31st July 2020 seeing one lucky lottery member win £5,000 as well as 5 x £1,000 winners.
STAFF LOTTERY SUPERDRAW £5,000 TO BE DRAWN ON FRIDAY 31st JULY. DEADLINE FOR APPLICATIONS ON 30th JUNE 2020.
That's not all! As it is 2020 and to celebrate 10 years of Cardiff & Vale Health Charity helping make things better for both our staff and patients, there is something special coming…
THE STAFF LOTTERY SUPERMEGADRAW IN DECEMBER 2020 WILL AWARD ONE LUCKY WINNER WITH £20,000, SO COME ON AND PLEASE SIGN UP!
Entry into the Staff Lottery is automatically deducted from your payroll and each entry costs £1 per week. Once you are part of the Staff Lottery you are given an allocated unique number and the winning number is generated at random by computer.
The Staff Lottery supports staff across Cardiff and Vale by creating new winners every month. It also enables staff apply for funding from the Staff Lottery Bids Panel, which has recently awarded grants of over £1.5 million to support numerous projects across the UHB which benefit, patients, staff and visitors.
Lottery Application form can be completed electronically here and returned to fundraising.cav@wales.nhs.uk.