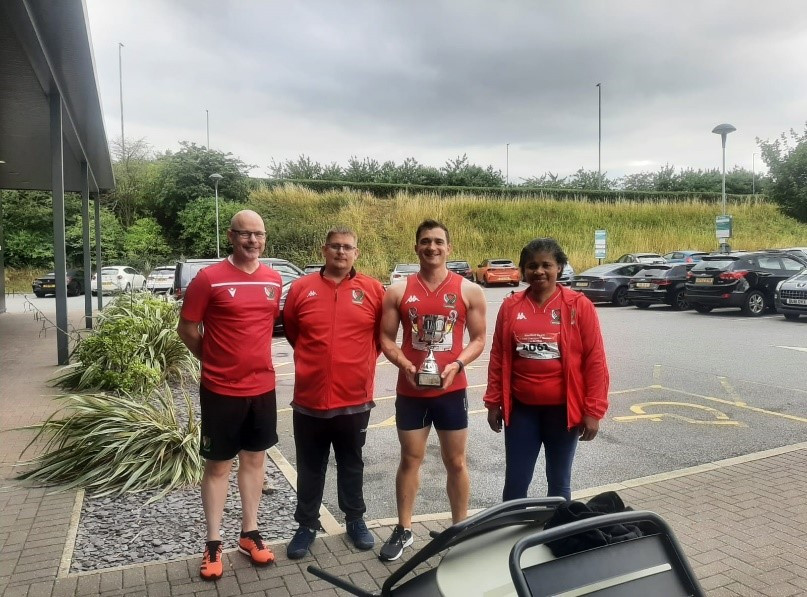 Funding has been granted by the Charitable Funds Committee to support the Welsh Transplant Team of local transplant patients to participate in the British Transplant Games over the next 5 years. Cardiff & Vale Health Charity have been delighted to support the Welsh Transplant Team over the recent years to celebrate organ donation and encourage patients to lead healthy lifestyles.
The Welsh Transplant Team were able to field a very successful team of 43 adults and 3 paediatric patients to compete in the last British Transplant Games held in Wales in 2019. The dedicated competitors won a trophy, 14 Gold, 9 Silver and 12 Bronze medals over the four days of the games, and hoped to repeat this amazing success this year.
After a 2-year hiatus, the 2022 British Transplant Games were held in Leeds, and using their built-up enthusiasm, the Welsh Transplant team won a fantastic 21 medals! Comprised of 21 adults and 1 junior, the team secured 9 gold, 7 silver and 5 bronze medals, with one member of the team setting a New British Record. Lewis Evans didn't just beat the British record for transplant Sport, but he actually beat the current world record for a transplanted athlete by running 100m in just 10.99 seconds!
Shaun Thomas, the Senior Renal Youth Worker, said: "What a hugely successful games, we cannot thank Cardiff & Vale Health Charity enough for their continued support."
"The feedback from the athletes and their families has been overwhelmingly positive. It has given many of them something positive and motivating to train towards, but, they reported it had also been a really welcomed break and respite. The fact we were able to enable so many supporters to attend, really made a huge difference to these families. Children and partners getting the chance to see their loved ones thriving and pushing their limits is what it is all about! All celebrating organ donation! "
"From all of the families who attended this year, they have asked us to pass on their sincere thanks!"
The Charitable Funds Committee were delighted to support the bid, as it provides opportunities for Cardiff and Vale University Health Board transplant patients to stay active, and take part in sport which in turn supports their health and wellbeing by motivating the team to stay active.
The below quotes demonstrate the emotional impact and the impact of the peer support the participants received through being part of the Welsh Transplant Team. The team also felt one of the benefits was being able to represent Wales at the event.
"Before I met the team I was in a bad place. I lost my job due to illness, I became depressed, I wouldn't leave the house. The team helped me realise that life was worth living by getting me actively involved, checking up on me to see how I was doing and to offer any help in moving forward to help achieve my goals. I am now in a job, back working and living my life how it should be. I'd like to thank you all for your help in doing so."
Liam
"For once I felt like a normal healthy man. I had my partner and kids with me who also enjoyed seeing their daddy competing. I liked the team walk around the stadium and they thought I was super dad, it felt absolutely amazing!"
Teifion
"Playing for the Wales Transplant Football Team has boosted my confidence and my fitness so much. I look forward to putting the jersey on as it makes me feel proud."
Martin
Congratulations to the Welsh Transplant team for competing in this year's British Transplant Games, and for winning so many well-deserved awards!
If your department would like to apply for funding to support projects such as this one, please email fundraising.cav@wales.nhs.uk
If you'd like to find out more about the Welsh Transplant Team, please contact Shaun Thomas Shaun.Thomas2@wales.nhs.uk