Thank you to Hazel, Karon and Rob who recently completed the Welsh 3 Peaks to raise money for Cardiff & Vale Health Charity's Breast Centre Appeal, Velindre Hospital and Maggie's Cardiff.
Hazel Dawson and Karon Norton are both patients of the Breast Centre, and are determined to give back for the care they have received.
Hazel kept a diary blog of their experience: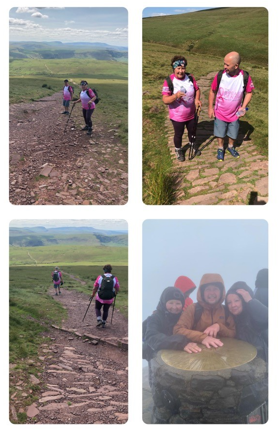 Our first walk – Sun shining started at Storey Arms the hardest steepest route!! Completed in 3 hours 30 mins. 1 done 2 to go. Though this was tough! This challenge is really is going to be hard. Karon and I just finished treatment in December 2022 but determined to complete 👍
Our second walk, Snowden, started and finished in the rain and wind. Unfortunately visibility was very poor so could not see the views. High winds at top, holding onto rocks for dear life haha. Started at Lamberis the longest route, a slow steady climb. Completed in 6 hours 30 minutes. We were very tired another tough one. We sang and kept each other going. After all this is why it is called a challenge!!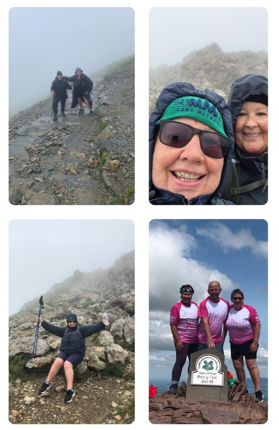 Final walk, weather not brilliant started with rain but improved. This was definitely another challenge for us, we were tired, had blisters but were were determined, strong minded no matter what we were going to do it. Up hill all the way, steep inclines rocky terrain in parts. The views were spectacular. We reached the summit and were proud of ourselves. The winds were incredible had to hold onto the rocks very scary. At the top the mist covered the landscape and the edge of the mountain a sheer drop!! Made our way down hill all the way. Body and feet aching, hands stiff and needed all our concentration but we were in fine spirits. We actually did it!! Completed in 6 hours exactly. A lovely meal and few glasses of wine at the end of the day was well deserved!! So proud of each other an achievement we will never forget 😊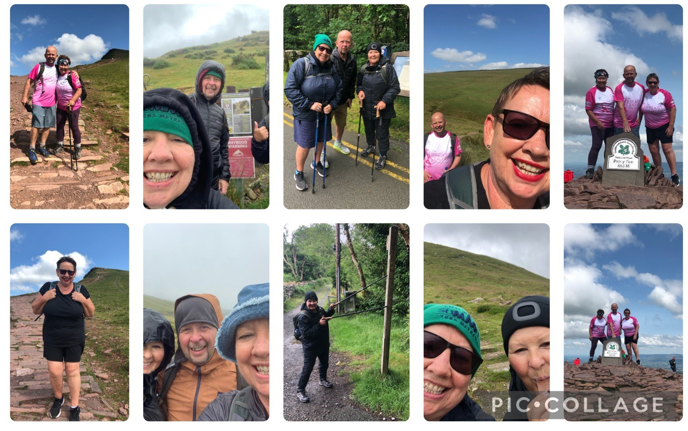 As you can read – what a challenge it was for all of them, but especially Karon and Hazel having recently finished their treatment. Quite incredible.
Both Karon and Hazel also want to give a big shout out to Peter from Greys Autocentre, who took 2 days off work volunteering to be their driver – all completely free of charge.
All this hard work to raise much needed funds, and you can still support them here: https://www.gofundme.com/f/maggies-velindre-marie-curie
Hazel and Karon have clearly now got the fundraising bug as they have both signed up to run the Cardiff Half Marathon 2023 to raise further funds for our Breast Centre Appeal! Watch this space…..
For further information on ways you can support Cardiff & Vale Health Charity, and the Breast Centre Appeal, please contact us on fundraising.cav@wales.nhs.uk