Cardiff & Vale Health Charity is encouraging people to sign up to their 2020 challenge to run or walk 10k or 20k to make things better for patients.
The Health Charity is an associate partner for the Cardiff Bay 10k and the Barry Island 10k and is looking for people to take part in either event to cover 10k or both covering 20k and raise money for a Health Charity appeal, ward or department of their choice.
Those who take part in the 2020 challenge will reap the added benefits of getting active and be fitter, healthier and also have the 'feel good' factor of helping give something back to their local ward, department or hospital to make things better for patients.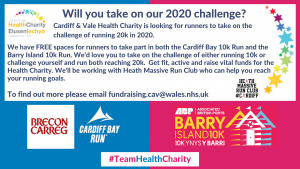 Event spaces are free and it's easy to register, just complete a form and a link will be sent to register.
As part of #TeamHealthCharity people will get a unique free 2020 challenge t-shirt when they register, have access to training sessions with Heath Massive Running Club and great support and encouragement along the way in return for a small amount of fundraising.
So what are you waiting for, set yourself the 2020 Challenge today, 10k or 20k your way to help Cardiff & Vale Health Charity.
To register for your free space and free t-shirt please email fundraising.cav@wales.nhs.uk