Everyone at Cardiff & Vale Health Charity would like to say a massive congratulations to Ryan Barnes who took part in 'The 10 Challenge' for the Health Charity last December.
Ryan, pictured below in the bottom right of the picture, and ten other members of the Humphry Davy School Creative Arts Faculty each ran 10 miles to raise money for ten different charities close to each of their hearts.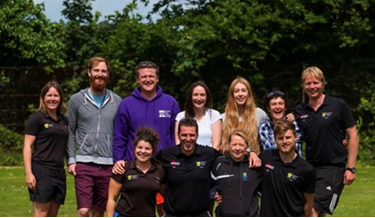 Ryan has been a fantastic fundraiser and was sponsored by many generous donors, a special mention must go to the Working Boat Pub and players of the Falmouth Town Football Club for their generous contributions. As a result of this fundraising, Ryan donated £1000 to the Health Charity which he would like to benefit the Specialist Midwifery and Snowdrop Suite.
Ryan decided to fundraise for the Specialist Midwifery and Snowdrop Suite to say a big thank you to the staff who cared and supported his family through an incredibly difficult time in their lives last year.
On 17th September 2018 Ryan's nephew, Noah Edward Barnes was born forever sleeping. It was truly a horrific time for Noah's parents; Alex and Sarah and the family as a whole, but the care and support the staff of the Specialist Midwifery and Snowdrop Suite gave the family was exemplary, providing them with great support and empathy in their time of need.
Ryan said 'I ran to raise money for the department with the aim of every penny directly going towards helping families in similar situations. The hospital went above and beyond for my brother and sister-in-law and have been with them every step of the way, I cannot thank them enough.'
Cardiff & Vale Health Charity very much appreciate this act of kindness and on behalf of the many people who will benefit from his generosity, we thank Ryan and his family and friends who sponsored him once again.
If you would like more information on how you can help Cardiff & Vale Health Charity please call 029 2183 6041 or email Fundraising.cav@wales.nhs.uk