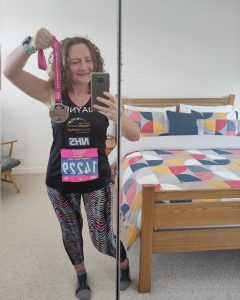 On Sunday 1st October 2023, the 20th Cardiff Half Marathon takes place across the city. As thousands of people are estimated to take part, we're highlighting our inspiring runners.
Long-time supporter and previous Health Charity colleague, Jayne Catherall, is taking on the Cardiff Half Marathon once again this year; this time to raise awareness of prostate cancer.
As an avid runner, Jayne has taken on several challenges in the past from the Barry 10K, to Cardiff Half Marathon, and all the way to the London Marathon.
Jayne said, "My Dad was diagnosed with prostate cancer in July 2019 and in the past few weeks, we've found out that unfortunately it has spread to his bones and it's pretty much everywhere – his skull, sternum, ribs, back, hips, tops of femurs and more.
"I'll be raising money for Cardiff & Vale Health Charity which is the official charity of Cardiff and Vale University Health Board which supports all the wards, departments, hospitals, community services and research areas throughout Cardiff and The Vale of Glamorgan."
If you'd like to support Jayne and help her reach her fundraising goal, please visit her Just Giving page here.