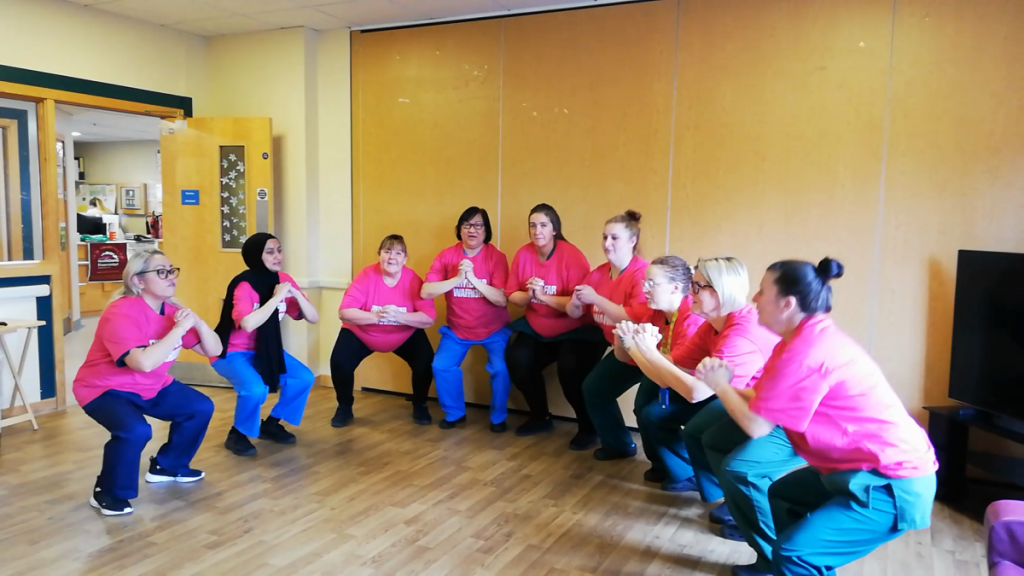 The Rhydlafar Warriors are a team of Nurses and Therapists in the Rhydlafar Unit, St David's Hospital. They have committed to do 20 squats per staff member at the start of every shift throughout November.
The Rhydlafar Unit is a rehabilitation unit with patients who are usually over 65 and admitted from larger hospitals for further rehabilitation. The healthcare staff help them engage in their daily occupations and refer individuals to community services to promote their independence and safety at home.
The funds raised through the squat challenge will support the purchase of a new hydrotilt recliner chair for patients at the Rhydlafar Unit, which will increase their comfort, wellbeing and recovery.
Lea England, Ward Sister at the Rhydlafar Unit and the lead of this challenge said, "The idea of the squat challenge came about because we needed to replace one of our condemned hydrotilt recliner chairs. These chairs are important to a patient's rehabilitation journey. It provides the patients a way of sitting out on a chair that supports them from getting deconditioned. It goes well with the UHBs drive for everyone to get up, get dressed and get moving.
"When we first thought of this fundraiser, not everyone in the team was on board. Eventually, when we started doing the squats, everyone was encouraged because we're doing it for a good cause and it's an activity where we can all have fun and laugh about whilst getting more fit."
Eager to raise as many funds as possible, the team are aiming to deliver between 260-300 squats each day, depending on how many staff members will be on duty. That will amount to a staggering 9,000+ squats for the whole month!
Cardiff & Vale Health Charity wish the Rhydlafar Warriors the best of luck as they embark on this epic challenge! To support their mission, please visit their JustGiving page.