Cardiff and Vale University Health Board and Cardiff & Vale Health Charity are delighted to announce that they are participating in the RHS Cardiff's Blossoming Beds competition on 12-14 April 2019.
The Blossoming Beds Competition is brand new to the RHS Flower Show Cardiff in 2019 and aims to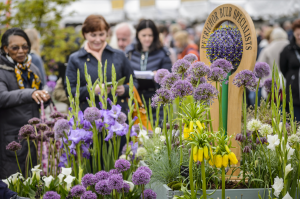 encourage those with a passion for plants and an eye for beautiful blossoms. The objective of the competition is to create a pocket of spring colour and interest that will inspire visitors and could be recreated at home.
Entries for the Blossoming Bed Competition will be colourful, seasonal and fun, showcasing plants that brighten up people's lives during spring, either blooms that pollinators flock to or a collection of flowers that tell a story or share a message or theme. Ultimately they should show the visitors to RHS Cardiff the ease and beauty of planting raised beds.
This year's theme is health and wellbeing in gardening.  The Blossoming Beds concept was launched at Chelsea 2018 with Matt Keightley's 'Feel Good Garden', with the RHS is striving to show how gardening has a positive impact on people's mental and physical health.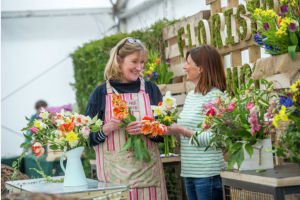 The Health Board's entry has been designed by Garden Designer, Eileen Wood and will be linked to the University Hospital Llandough (UHL) Our Orchard project which is titled: 'We Grow Better Tomorrows When We Plant Good Seeds Today'.
The Blossoming Beds entry depicts a 'mini snapshot' of the seven acre site of Our Orchard at UHL.
Our Orchard will bring to life the vision of a community orchard to the fields surrounding the hospital site. The Health Board is working with partners to establish this innovative project which is believed to be the first of its kind at a hospital site in the UK.
Our Orchard at UHL has been inspired by individuals and communities interested in creating a sublime ecological area to support health and wellbeing.
Plants and art mingle effortlessly to create an area to nourish the senses.  Apple trees and an old gate invite the visitor to enter Our Orchard, whilst large boulders, repurposed from a construction project, create an interesting 'fence'.
Planting, inspired by our local area, is food productive, pollinator and wildlife friendly.  Acers link with our garden title taken from an inspiring art installation within Hafan y Coed Hospital at UHL.
Logs are artfully used to create a hog log and insect home.  The stepping stones and sculpture 'Form From Nature' are inspired by the natural world.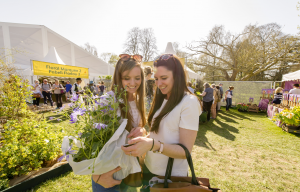 Eileen Wood, Garden Designer said: "I'm delighted to be involved, not only with the RHS Blossoming Beds competition but in the Our Orchard project as a whole.  I believe that this entry will help us show the good work that is taking place to create an orchard as an area of health and wellbeing for our staff, patients and the local community to use.
"We hope this garden inspires everyone to join us in the activity of generational gardening, building connections with people and nature to create new memories."
Dr Rhys Jones, Presenter, Senior Lecturer, Cardiff University School of Biosciences and International Ambassador for Our Orchard Project said: "I'm absolutely delighted to be involved in the Our Orchard Project at University Hospital Llandough.  Orchards are typically havens for wildlife, providing food and shelter for thousands of animals and plants.
"The Health Boards entry will have apple trees to show cross-pollination and fruit development, a hog log pile to show people how they can create wildlife havens for hedgehogs, small mammals, frogs and insects alike in their own gardens and beautiful sculptures reflecting the projects commitment to providing a pollinator hotspots.
"I'd like to wish the team good luck for the competition – hopefully it will inspire gardeners of the future with new ideas of how to promote pollination in their own gardens."
Simone Joslyn, Head of Arts and Health Charity for Cardiff and Vale University Health Board said: "I'd like to thank Men's Shed Cardiff, the activities team at Hafan y Coed Hospital, Natural Resources Wales and our community volunteers for helping to make this project possible.
"Cardiff & Vale Health Charity has proudly supported this project, which is helping towards meeting our aims for the Wellbeing of Future Generations Act – A Healthier Wales by encouraging more people to get outdoors, into their gardens and create something wonderful for people to enjoy."
To make a donation to Our Orchard project please visit the Just Giving page.
To find out more about the RHS Cardiff show and tickets please visit: www.rhs.org.uk/cardiff