Cardiff & Vale Health Charity were thrilled to be invited to the Wales Football Association grounds beside the Vale Resort on Tuesday 22nd March where we met Health Charity partners Nathan and Rose of Nathaniel Cars, Welsh former professional footballer and current caretaker manager of the Wales national team, Rob Page, and Welsh professional footballer Gareth Bale.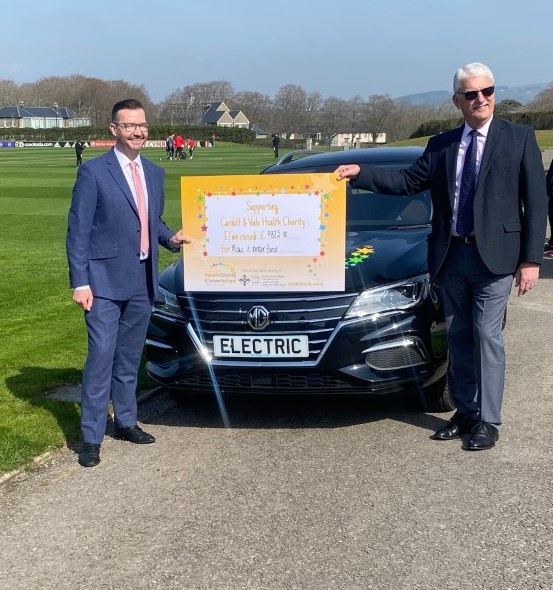 With the glorious sunshine overhead, Nathaniel Cars presented the Health Charity with a cheque for £9825 which will be utilised to support two areas across University Hospital of Wales. The funds will provide a child friendly area including wall art in the Paediatric, Accident & Emergency Department, and to purchase soft furnishings and wall art to create a relaxing and peaceful area for staff during counselling sessions in the Employee Wellbeing Service. The money was raised through Nathaniel's November Incentive where they donated £75 to the Health Charity with every car they sold throughout that month.
Cardiff and Vale University Health Board Chair, Charles Janczewski, also accepted the Health Charity's new electric MG ZSEV car from Nathaniels which will be used for all events and commutes between hospital sites. Whilst taking the photo with Nathan, Rob Page, and Gareth Bale, Charles also took the opportunity to thank Gareth Bale for the incredible donation of £500,000 that the Health Charity had received during the height of the pandemic.
Cardiff & Vale Health Charity are incredibly grateful to Nathaniel's for their continued support and for being a fantastic partner to the Health Charity.