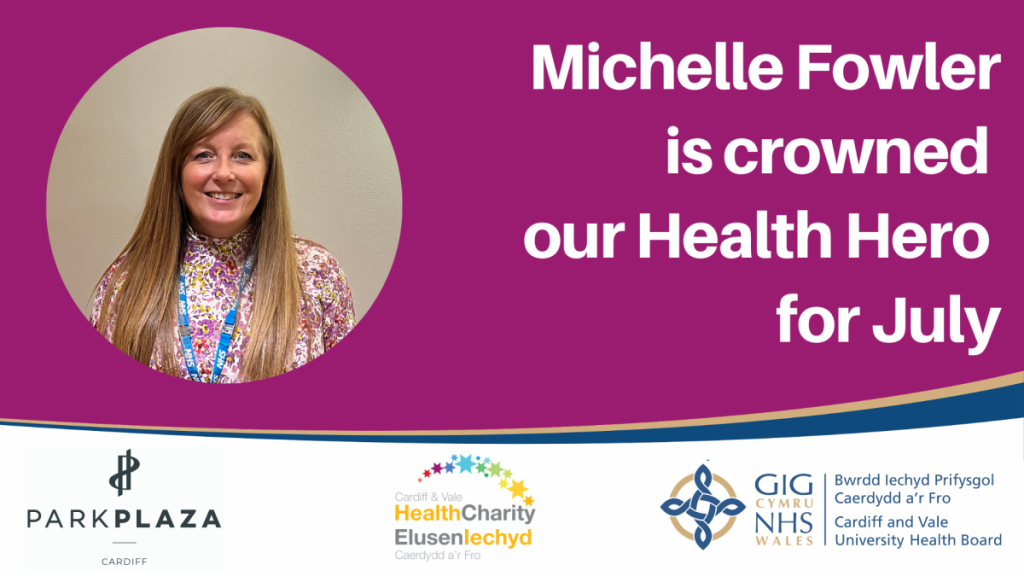 Cardiff & Vale Health Charity is pleased to announce Michelle Fowler, Head of Patient Experience at Cardiff and Vale University Health Board, has been crowned Health Hero for July.
Throughout her career it has been noted that Michelle always puts the patient at the heart of what she does, no matter the role she is undertaking. Previously, whilst working as the Volunteer Services Manager, Michelle developed many of the volunteer roles currently used in the Health Board today. These enhance patient experience and tackle the issues of isolation and boredom often felt by patients who are in hospital.
Suzie Becquer-Moreno, Carers Lead said, "During the pandemic, Michelle became the Head of Patient Experience and tirelessly worked to put in place initiatives to improve the experience of not only patients and visitors but also staff during this difficult and upsetting time. One example is the development of a Patient Experience Support Worker role for student nurses and medical students who supported patients and families, with virtual visiting and befriending when restricted visiting was in place."
Michelle continues to champion the feedback agenda and the 'What Matters to Me' conversation, ensuring that the patient voice is included in all the improvement initiatives she is involved in.
Next February, 2024, will see Michelle celebrating 40 years of service! Thank you for your dedication to the NHS!
Michelle will be Health Hero for the month of July and will receive a treat from sponsors Park Plaza Cardiff. She is delighted with the award nomination.
The Health Hero Award is supported by Cardiff & Vale Health Charity and Park Plaza Cardiff.
If you feel you know someone who has worked tirelessly to help a colleague or patient in healthcare settings throughout Cardiff and Vale University Health Board and deserves recognition then let us know about them.
To nominate your Health Hero: Email: fundraising.cav@wales.nhs.uk
Nominations must include: Your name, contact details, the nominee's name and role, plus some words explaining exactly why you think they deserve to be crowned Health Hero.
If you have already nominated someone, they will be automatically entered into the next round for consideration for the award.
Tweet #CAVhealthhero to spread the word and show your support for our fantastic NHS!