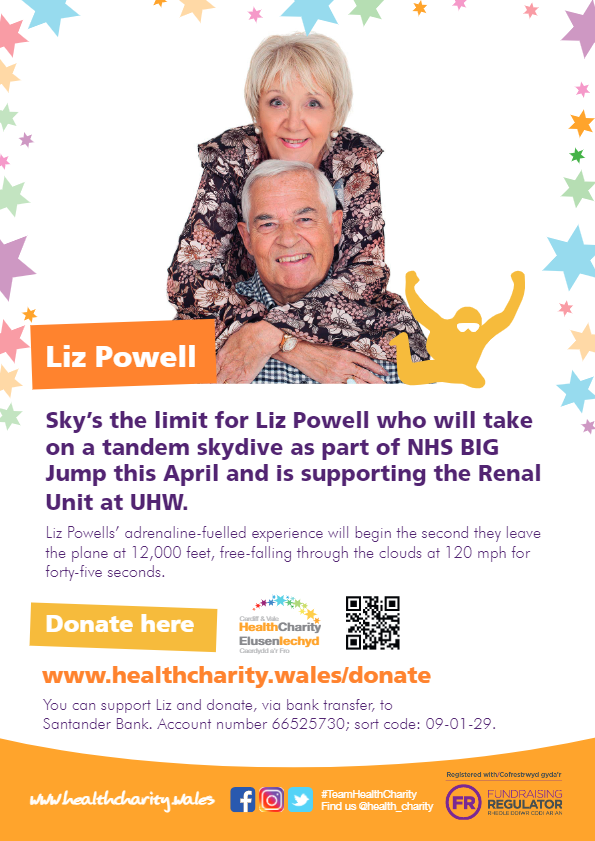 Liz and her husband Russ married in 2017 after both being widowed in the early 2000s. Unfortunately, they found out that Russ needed dialysis which meant he required a kidney transplant. Liz was the one who volunteered to be the kidney donor, and after a year of extensive tests, they went ahead with the procedure.
Liz said: "We have both agreed that on September 3rd, 2018, when we were both taken to theatre, we understood everything that would happen, right down to where tubes would be going in and out. This set us at ease and can honestly say we were not nervous, and we were not surprised that everything went as planned.
The operation was successful and now, we live a full life (except for Covid restrictions of course)."
To give her thanks to the Renal Unit, who supported Liz and Russ throughout the procedure, Liz has registered to take part in the Big NHS Jump! She will take on the tandem skydive on the 9th April 2022.
To support Liz's adrenaline-fuelled experience, please donate to:
Santander Bank
Account number: 66525730
Sort code: 09-01-29*
Cardiff & Vale Health Charity would like to say a huge thank you to Liz for her incredible commitment to support the Renal Unit.
If you're interested in taking part in the Big NHS Jump, please visit https://healthcharity.wales/events/skydive-for-your-nhs/
* This is a separate fundraising account which Liz has created to support the cause.