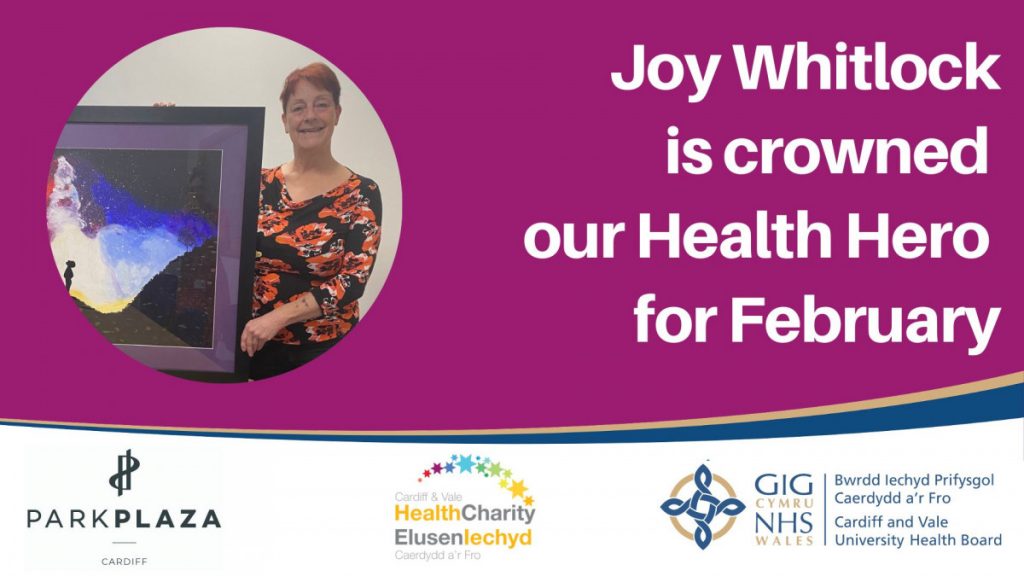 Cardiff & Vale Health Charity is pleased to announce Joy Whitlock, Head of Quality and Safety Improvement, has been crowned Health Hero for February.
With a record of almost 45 years in the NHS, Joy began her career as a student nurse in St Bartholomew's Hospital, London. After a successful clinical career in cardiac and practice nursing, Joy stepped into the world of quality improvement (QI), and has worked for Cardiff and Vale University Health Board for almost 19 years in various QI roles.
Joy was an improvement advisor with the 1000 Lives Campaign and led the Leading Improvement in Patient Safety (LIPS) programme for 6 years until COVID-19 struck.
Ann Jones, Patient Safety and Organisational Learning Manager said, "Joy ensured that LIPS was an inclusive programme where literally professors and plumbers were in the room together working on their respective projects. The number of patients who ultimately benefitted from the work within this programme is immeasurable.
"There is much more to Joy than meets the eye! She is a talented artist; she loves to walk and cycle to keep fit; but most of all she enjoys connecting with and helping people. Joy is absolutely unique! When she retires in March, she will leave a large gap in the team which will be difficult to fill, however she will at last be able to spend more time with her family and beautiful grandson."
Joy will be Health Hero for the month of February and will receive a treat from sponsors Park Plaza Cardiff. She is delighted with the award nomination.
The Health Hero Award is supported by Cardiff & Vale Health Charity and Park Plaza Cardiff.
If you feel you know someone who has worked tirelessly to help a colleague or patient in healthcare settings throughout Cardiff and Vale University Health Board and deserves recognition then let us know about them.
To nominate your Health Hero: Email: fundraising.cav@wales.nhs.uk
Nominations must include: Your name, contact details, the nominee's name and role, plus some words explaining exactly why you think they deserve to be crowned Health Hero.
If you have already nominated someone, they will be automatically entered into the next round for consideration for the award.
Tweet #CAVhealthhero to spread the word and show your support for our fantastic NHS!