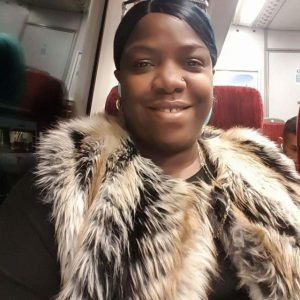 Veronica Mills is a Secretary in the Radiology Department at the University Hospital of Wales and she has just signed up for the 'In for a Penny' scheme to donate the pennies at the end of her salary every month.
In for a Penny is a payroll giving scheme run by Cardiff & Vale Health Charity, giving all Health Board staff the opportunity to be part of their success by giving a minimum of 1p and a maximum of 99p every time they get paid.  The money raised from 'In for a Penny' is currently supporting two funds of Cardiff and Vale Health Charity – Ein Berllan – Our Orchard at Llandough Hospital, and Children's Cancer Care – Sierra Leone.
Veronica has a very personal reason for wanting to support the 'In for a Penny' scheme.  She first went to Gambia in 2005 – it was her cousin's 40th birthday year and she wanted to go somewhere where none of them had been.  They looked at the map and wrote some names on paper, put them in a hat and then it was decided whatever place was pulled out, that's where they would go!

Gambia came out of the hat and a group of 14 girls went for 2 weeks in the November 2005.
They stayed in Kololi, and during their stay, they got to know a lot of the staff including the entertainments manager, Armstrong.  The group asked him about going to a school as they had taken pens, pencils, felts, rulers, books etc.    Armstrong took them to a school called Tambamasang which was a good 1 to 1.5 hour drive from the hotel. Once there, they gave all the supplies to the headmaster who was very overwhelmed with it and he gave the group of ladies a book so that they could write a message in there saying where they were from and what they had thought of the school.
Veronica says she finds it hard to explain, but she fell in love with Gambia – nothing was too much trouble for anyone, and considering they have very little, they cannot do enough for people and most were just happy to receive a bag of rice to feed their family for a few weeks.
Since 2005, Veronica has gone to Gambia every year, sometimes up to three times a year and in January 2019 she visited for a whole month, when possible she goes for three months if she can get the time off work.
Whenever Veronica goes to Gambia, she mixes her time between going to the school to do voluntary work, spending time with friends that she has made over the years and going to Sierra Leone to visit families of friends.
Veronica has said that she would highly recommend going to Gambia/Sierra Leone but with an open mind – people are just welcomed with open arms.  When she heard about our 'In for a Penny' scheme she was delighted to be able to make such an easy, regular change to her salary, feeling good about supporting charity work in Sierra Leone in a country she has grown to love.
Cardiff & Vale Health Charity would like to thank Veronica for telling us her story, and for supporting the Health Charity with a monthly donation via the 'In for a Penny' scheme.
If you would like more information about 'In for a Penny' or other ways you can help Cardiff & Vale Health Charity call the Charity Team on 02920 715978 or email fundraising.cav@wales.nhs.uk