Back in 2019 we celebrated the success of Irene Hicks and team, a fabulous group of people, for raising just over £100,000 for our Breast Centre Appeal.
Fast forward just over 3 years, and even during a global pandemic, this wonderful team were not to be outdone.  They modified how they carried out their sales, took payments and organised collections, all safely following Covid 19 restriction guidelines.  Amazingly, in August this year, they reached their goal of £200,000 raised for the Breast Centre Appeal since they started supporting us in 2014.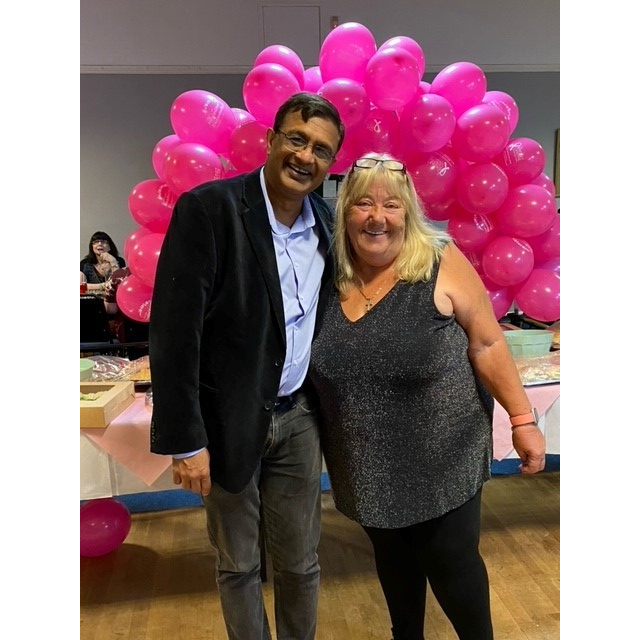 Earlier this month, Irene, her friend Tracy and their many helpers and supporters organised a 'retirement' party, as due to the health of herself and her husband, Irene now feels she needs her life and home back to finally take some well-earned rest. Members of the Health Charity Team, and Mr Sumit Goyal MBE, Consultant Oncoplastic Surgeon at The Breast Centre attended to show support and gratitude for all they have done.
Irene has amazing community spirit and her Facebook selling page has offered a wonderful service to her local community and further afield. Irene is a loving mother who tragically lost three out of her four sons – including two in just six months – and has turned her children's deaths into an amazing legacy. Irene has previously said, "I have to keep going for them.  The boys were so proud of my work and I've got the whole community behind me.
"If I didn't have this I would have cracked up. There's nothing I can do to get them back so I just keep going."
Some of the money raised has been used to equip a gym with exercise equipment and funding for a Senior Physiotherapist at The Breast Centre in University Hospital Llandough.  This funding enables us to support anyone using the service with an exercise prehab and rehab programme which has been so well received by any patients that have joined in the various fitness, swimming and group sessions available to our patients.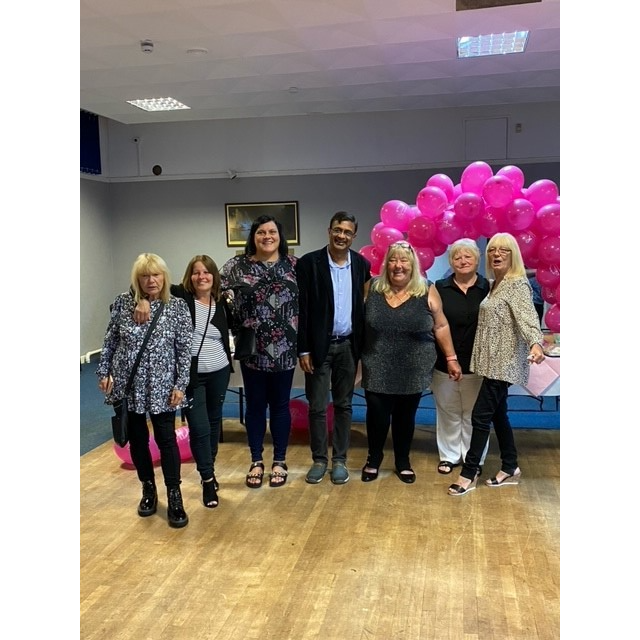 Sue Dickson-Davies, Senior Fundraiser for Cardiff & Vale Health Charity said: "We cannot thank Irene and her team of friends enough. They have not just supported our appeal, but they have given up their homes and hours and hours of their time, week in and week, out to raise such a phenomenal amount of money for our Appeal. 
"We are delighted to be able to call Irene a friend, and although this fundraising has come to an end, we know she will continue to support us in smaller ways by holding her raffles and bingo nights. One of the team, Tracy, will be continuing the Facebook sales for another charity close to her heart, so this wonderful community service will continue.
"I would personally like to thank Irene, Tracy, Jayne, Sue, Linda, Sheryl, Glenn and anyone who has supported or donated to this fundraising effort. All of us here at Cardiff & Vale Health Charity and the Breast Centre Appeal, are so grateful for their support over the last 8 years."
Members of the The Breast Centre Appeal Committee also look forward to hosting a more formal thank you event for the team next month.
To find out more about our Breast Centre Appeal and what your fundraising can support, or for information on any of our appeals, or fundraising for Cardiff & Vale Health Charity, please contact us on fundraising.cav@wales.nhs.uk