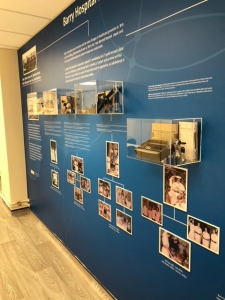 After a project spanning well over 2 years of work which has been hindered by the pandemic, we are delighted that the Barry Hospital Heritage Project has now been installed in the Mary Lennox Community Room at Barry Hospital.
Initially planned to celebrate the 25th Anniversary of Barry Hospital in 2020, this Health Charity funded project charts the history of healthcare in Barry and the Vale of Glamorgan during the past 100 years, and celebrates the past 25 years of Barry Hospital at its current Colcot Road location.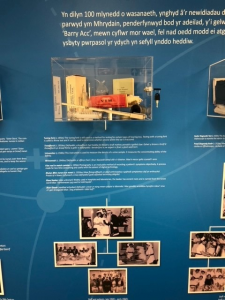 Actual artefacts collected over the years are included as part of the display, and photographs from People's Collection Wales and staff of Barry Hospital have been included resulting in an informative and almost interactive wall of history.
Local Historian Branwen Roberts has pulled together this wonderful project. She said "Over the last 100 years, the staff and volunteers at Barry Hospital have stored a variety of medical equipment and uniform in the hope that they will be of interest to patients and staff in future. Ranging from nurse's caps to surgical instruments, they offer a glimpse into healthcare provision in years gone by. There is also a wonderful collection of photographs which document life and community spirit at the old Wyndham Street 'Barry Acc' hospital site. The aim of the project is to display these interesting objects and to bring the history of Barry Hospital to life."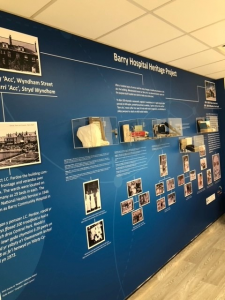 "My background is in textile conservation. I was based at Hampton Court Palace for 13 years. I have worked on many royal artefacts from tapestries to state beds, but this project gave me the interesting opportunity to work with objects that are valuable in a different way and important to the community. I hope people enjoy learning about the history of Barry Hospital as much as I did. Medical practices, instruments and uniforms may have evolved but it's clear that the dedication of staff to care for their patients at the hospital has remained unchanged."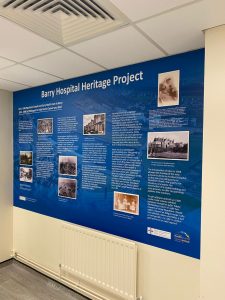 Sue Dickson-Davies, Health Charity lead for this project said, "It's been so interesting working through this project with Branwen, and seeing the input from some of the staff members at Barry Hospital – all of whom were delighted to share their stories and some of their own history at Barry Hospital. This project has been a real team effort and we are delighted that we are finally able to display the results for all to see."
We were also able to once again work with Grosvenor Interiors to produce the artwork for the walls, and one of the team, Victoria Boulton, said "it was really interesting learning about the origins of the hospital and of course seeing the changes through the photos, that was really fascinating – it was a great collaboration and I really enjoyed working on it."
If you are visiting Barry Hospital for any reason, it really is worth taking a look!
For information of this, or any other charity funded projects, contact the Health Charity team on fundraising.cav@wales.nhs.uk