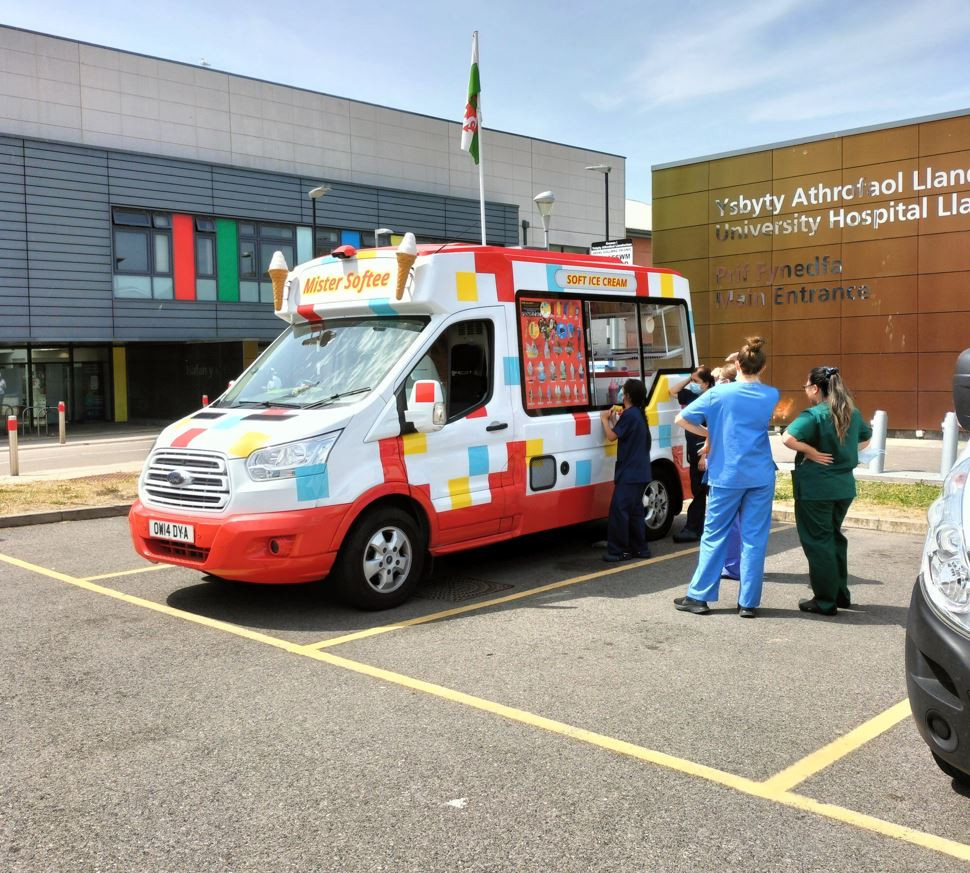 To say thank you to staff at the Cardiff and Vale University Health Board hospital sites who had to work during the recent heatwave, the Staff Lottery Bids Panel funded ice cream vans to visit University Hospital Wales and University Hospital Llandough. Tip tops were also given out at Barry Hospital and St David's Hospital.
On Sunday 17th July the free ice cream was given out whilst the temperatures soared across the UK, in an aim to boost everyone's spirits during the challenging circumstances. The cool treats were very welcomed by staff, who were appreciative of the small gesture to say thank you for their endless dedication and hard work.
We appreciate that not all colleagues were able to take advantage of this opportunity, however we have tried to reach as many people as possible working in such a large and complex organisation, with multiple sites.
The ice cream was funded by the Staff Lottery Fund, which is Cardiff & Vale Health Charity's staff payroll giving scheme that gives contributors a chance to win £1,000 each week. The contributions are used to improve staff and patient experience with exciting projects spanning across Cardiff and Vale University Health Board. Providing free ice cream at our hospital sites is just one example of how the funds can be used to improve the work environment, and brighten the moods of our wonderful NHS staff.
If you would like to join the Staff Lottery for a chance to win £1,000 each week, application forms can be completed electronically or via our website; https://healthcharity.wales/hospital-staff/staff-lottery/. Please return completed Staff Lottery forms to fundraising.cav@wales.nhs.uk.
If you would like to apply for funding from the Staff Lottery Bids Panel, please contact the above email address for details.