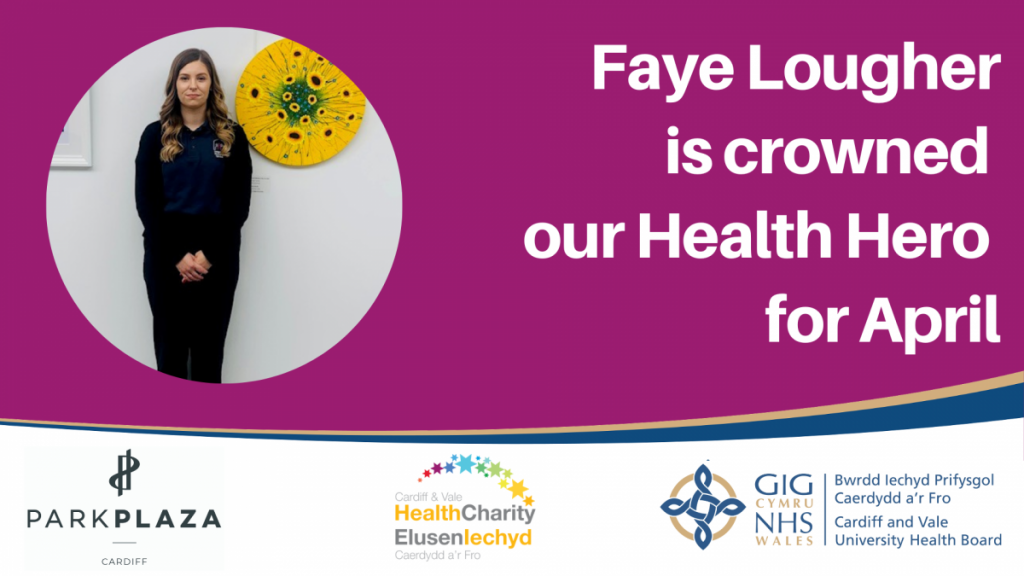 Cardiff & Vale Health Charity is pleased to announce Faye Lougher, Discharge Coordinator, Integrated Discharge Service, has been crowned Health Hero for April.
While working as a Discharge Coordinator within the Integrated Discharge Service, Faye is often liaising with the Palliative Care team, organising discharge for patients whether that be for end-of-life care at home, or to a care home. This is a highly emotive and complex process which requires excellent communication and organisational skills.
Rhian Smith, Clinical Nurse Specialist said, "Faye clearly has a passion for our palliative patients and acknowledges the importance of 'getting it right' and 'going the extra mile'. Faye has demonstrated on numerous occasions her excellent and compassionate communication skills despite never receiving any formal communication skills training. Her drive to increase her understanding about palliative care is always evident in her keenness to learn. Faye is a fantastic colleague to work alongside."
Faye will be Health Hero for the month of April and will receive a treat from sponsors Park Plaza Cardiff. She is delighted with the award nomination.
The Health Hero Award is supported by Cardiff & Vale Health Charity and Park Plaza Cardiff.
If you feel you know someone who has worked tirelessly to help a colleague or patient in healthcare settings throughout Cardiff and Vale University Health Board and deserves recognition then let us know about them.
To nominate your Health Hero: Email: fundraising.cav@wales.nhs.uk
Nominations must include: Your name, contact details, the nominee's name and role, plus some words explaining exactly why you think they deserve to be crowned Health Hero.
If you have already nominated someone, they will be automatically entered into the next round for consideration for the award.
Tweet #CAVhealthhero to spread the word and show your support for our fantastic NHS!