Cardiff & Vale Health Charity are thrilled to support the Cardiff and the Vale Dementia Champion Awards through the Staff Lottery fund. Organised by the Dementia Learning and Development Team who lead the All Wales dementia standards (workforce empowerment group in Cardiff and Vale), the quarterly awards aim to cultivate positive culture change, and enable colleagues to connect and celebrate their great work.
Statistics suggest that there are currently more than 45,000 people living with dementia in Wales, with this number expected to increase. 2022 saw the launch of the All Wales Dementia Standards with a vision to connect and improve dementia care across the population and care settings. March 2022-23 was identified as a preparation year for standard implementation and as this period drew to a close, the Dementia Learning and Development Team wanted to offer the workforce the to connect across the region and celebrate the inspiring work that is carried out on a daily basis within Cardiff and Vale University Health Board to support people with dementia.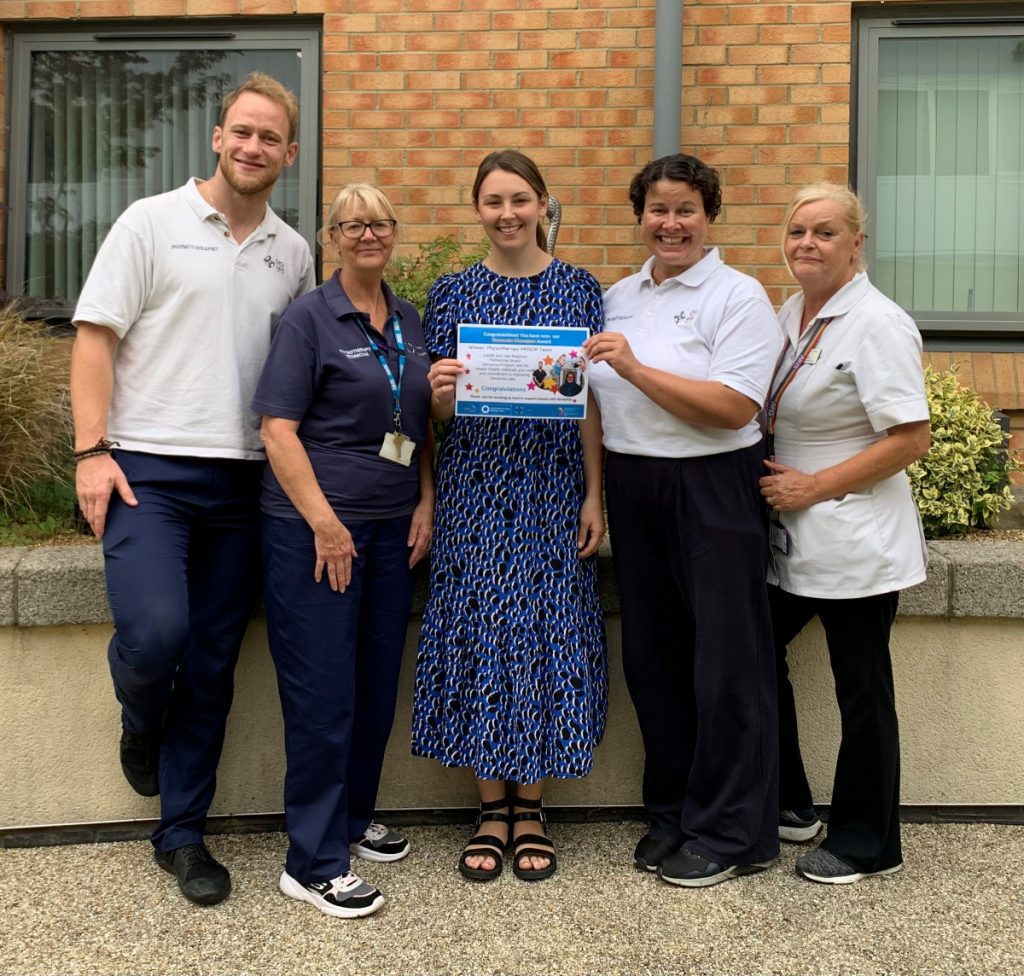 The Staff Lottery funding supported prizes for the quarterly awards, with the teams being judged on the following categories:
Community Engagement – Celebrating groups, partnerships, keeping care close to home and unpaid carers.
Complex Care – Person centred care, meaningful activities and inclusion, advocacy, re-enablement.
Dementia Hospital Charter – Improving experiences within a hospital setting
Going the Extra Mile – A person/team who has demonstrated the values of CAVUHB and improved the lives of people with dementia and/or unpaid carers.
Quarter 1 2023 of the dementia champion awards received 12 very worthwhile nominations for individuals and teams across our partnership. The Dementia Learning and Development Team extend their gratitude to all those who took the time to nominate and share the fantastic work that is happening in Dementia Care across Cardiff and the Vale of Glamorgan.
Congratulations to the Mental Health Services for Older People Physiotherapy Team who have received the award for the first quarter. The panel commented that 'the physiotherapy team stood out as an excellent example of inclusive, and positive cultures in dementia care approaches and evidently strives to support people achieve their potential'.
Cardiff & Vale Health Charity were delighted to support the awards as it celebrates the amazing work being carried out on a daily basis by the staff who care for people living with dementia. The awards will also connect colleagues and encourage conversations about dementia.
If you would like to join the Staff Lottery for a chance to win £1,000 each week, application forms can be completed via our website. If you would like to apply for funding from the Staff Lottery Bids Panel, please contact fundraising.cav@wales.nhs.uk for details.