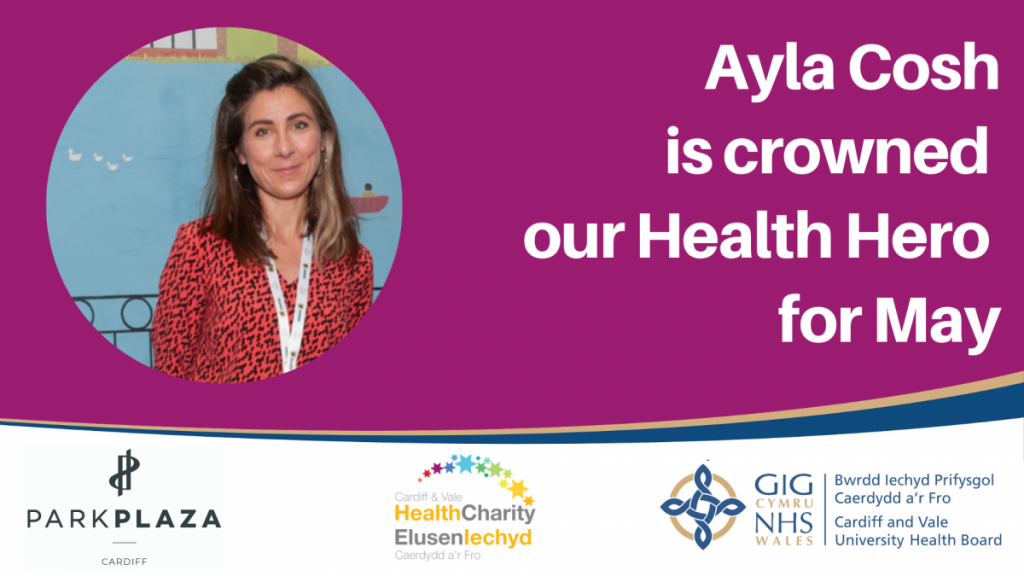 Cardiff & Vale Health Charity is pleased to announce Ayla Cosh, Clinical Director of Cardiff and Vale Health Inclusion Service, has been crowned Health Hero for May.
Ayla began her current role in what was previously known as CHAPS, and has since gone on to mould and develop the service into what is now known at Cardiff and Vale Health Inclusion Service (CAVHIS), providing healthcare to the most vulnerable groups.
Rebeca Short, Operational Manager said, "Ayla's dedication in reducing health inequalities throughout Cardiff and the Vale has been widely appreciated by both staff and patients. She is admired for her ability to be a great team player as well as a strong cross-collaborator engaging with a wide range of services. Her recent cross-collaboration project with Red Cross and the Homeless MDT was well received and praised for working in partnership with other services."
Not only is Ayla dedicated in developing and growing the service to reach those most vulnerable, but she is also kind and caring to staff members and will always be there for support.
Working alongside Ayla for two years, Service Manager for the Red Cross Project, Kaveh Karimi said, "Ayla has been admired for her dedication and believes that this population has a brighter future ahead with better health care provision. Her ideas are the ones that sparked the start of the new project and had an extremely positive impact on the patient experience. Her proactive approach is a rare but extraordinary quality that strengthens the Health Inclusion team. She is known for going above and beyond the call of duty. Everyone on her team respects her for being a kind, helpful, and skilled individual."
Ayla will be Health Hero for the month of May and will receive a treat from sponsors Park Plaza Cardiff. She is delighted with the award nomination.
The Health Hero Award is supported by Cardiff & Vale Health Charity and Park Plaza Cardiff.
If you feel you know someone who has worked tirelessly to help a colleague or patient in healthcare settings throughout Cardiff and Vale University Health Board and deserves recognition then let us know about them.
To nominate your Health Hero: Email: fundraising.cav@wales.nhs.uk
Nominations must include: Your name, contact details, the nominee's name and role, plus some words explaining exactly why you think they deserve to be crowned Health Hero.
If you have already nominated someone, they will be automatically entered into the next round for consideration for the award. Tweet #CAVhealthhero to spread the word and show your support for our fantastic NHS!