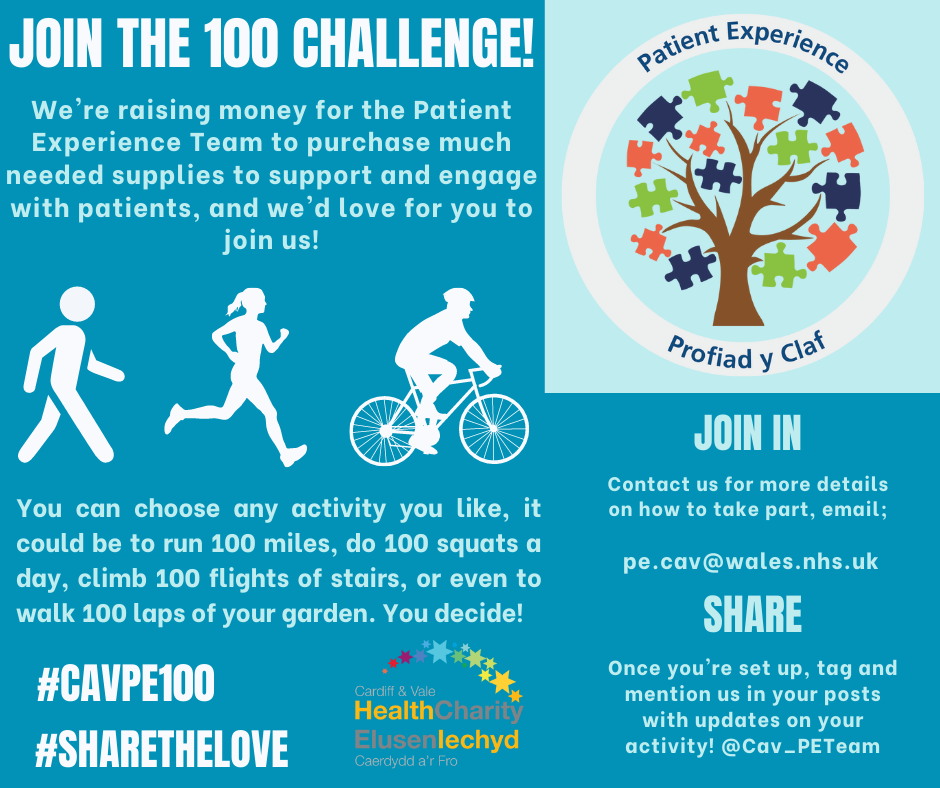 The Patient Experience (PE) Team at Cardiff and Vale University Health Board is asking you to put your best foot forward and get involved in the 100 challenge during February 2022.
Everyone has good intentions at the start of the new year, to be fitter, healthier and more active.  Volunteer Co-ordinator, Jordann Rowley came up with the idea of encouraging as many people as possible to get involved, either on their own or as part of a team, to take on the 100 challenge to raise money to make a difference to patients on the wards.
Will you:
Walk 100 miles
Do a 100 mile step challenge
Climb 100 flights of stairs
Cycle 100 miles
Run 100 miles
Swim 100 miles
Do 100 laps of your garden
Do 100 of any activity you choose
Jordann said: "I've been struggling to get motivated to be more active, so on the back of a healthy January and now looking forward to a healthy February, I thought a challenge and a focus would help me, and hopefully others, to get moving. I think that a bit of fundraising to make a difference would do just that.
"Throughout the month of February, I'm determined to walk/run/cycle or swim 100 miles to raise some funds for the Patient Experience Team.
"Suzie and Jayne in my team are also going to be taking part and we'd love if any of you could join us or help spread the word to turn this into a team effort. It would be great to spread this far and wide across the Health Board, offering our colleagues, even family and friends to take part in the challenge, or simply spread the word and hopefully get some donations.
"Any donations from this event will go to the Patient Experience Team to purchase items and activities for your wards to support our volunteers and Patient Experience Support Workers in their efforts to engage patients, especially those who have been in hospital for a long time and/or don't have anyone to support them."

Individuals can make a donation of any amount for taking part or individuals and teams can set up a team target for their fundraising page.
To get involved, email pe.cav@wales.nhs.uk and let us know what you'll be doing for your 100. You can set up your fundraising page at https://www.justgiving.com/campaign/spreadthelovetopatients and click on "Start Fundraising" to create your own page or team page.
To make a donation to the 100 challenge, please visit: https://www.justgiving.com/campaign/spreadthelovetopatients
Follow @Cav_PETeam on Twitter, tag us into your activities and use the hashtag #CAVPE100 and we'll retweet to let everyone know what you're up to and encourage you along the way.
This activity is supported by Cardiff & Vale Health Charity.