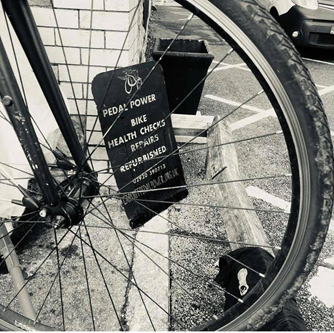 Following the success of our taster sessions in the spring, Cardiff & Vale Health Charity funded a further 14 Bike Health Check Sessions working with local charity Cardiff Pedal Power. These sessions took place across our hospital sites during September & October 2021 with the aim of ensuring that bikes are winter ready, enabling staff to safely get on their bikes and out in the fresh air!
Most of these sessions were fully booked, we listened to colleagues and moved some sessions to areas that weren't initially covered, and also ensured we covered additional sites including UHW and Woodland House.
Just some of the really positive feedback we have received from members of staff following their individual bike health checks includes:-
"I haven't used my bike during Covid as I've been working from home and got out of the habit but the health check gave me the push to get back on it and I've started cycling again – I've realised how much I missed it. It was reassuring to know that my bike was still in good working order and Craig gave me some helpful advice on further maintenance. It's a great service to have at the offices, thanks again for organising and to Craig for his help." – Helen Griffith, Senior Health Promotion Specialist, Public Health Wales, Woodland House.
"I just wanted to reply and say how useful I found the bike check. It was good to know that my bike was safe for commuting and Craig highlighted areas for concern with priority order. I found this really helpful." – Jo Rogers, Clinical Biochemist, UHL.
"This was brill and I'd really like to see it continue if at all possible. Thanks to both Craig for doing and you for organising." – Owen Seddon, Specialist Registrar – Microbiology, UHL.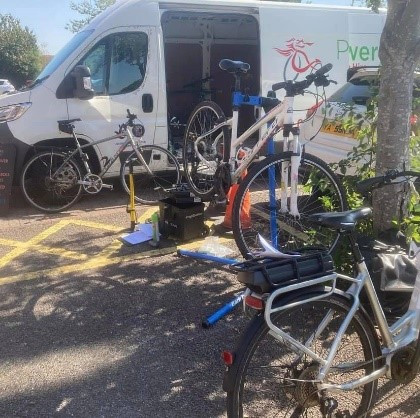 "This was a timely check, Craig also changed an inner tube I took, tightened up some cables and gave invaluable advice for further maintenance which I would not have picked up on – highly recommended and great to be on the UHL site." – Claire Guy, UHL
"I just wanted to say thank you for my bike check yesterday. The gentleman provided a friendly efficient service and I really must say my bike felt a lot better riding home! He also gave me some pointers on work that I should get done in the near future and I feel reassured using my bike now in the wetter months and inspired to carry on cycling to work! Thank you." Alice Richards, Home Ventilation Service Lead and Specialist Respiratory Physiotherapist, UHL.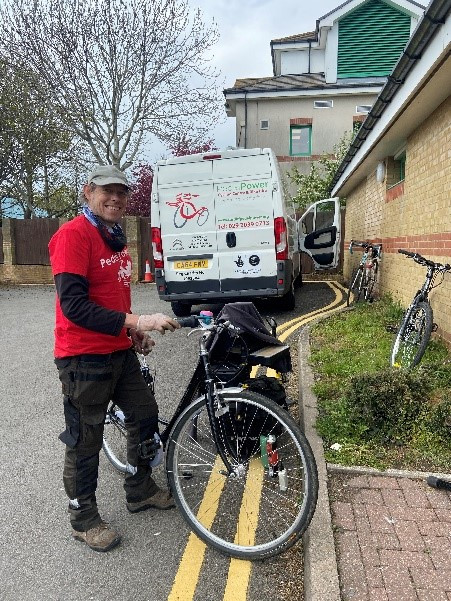 "Just to say a belated thank you for the bike checks last week. Lots of my colleagues in the department made use of the bike health check, including myself, and were very happy with Craig's service and advice. It even encouraged some of them to cycle to work for the first time, which I think is a great outcome!" – Lydia Ashworth, Dermatology Nurse, UHW (Glamorgan House).
Sue Dickson-Davies, Cardiff & Vale Health Charity lead for this project said "Overwhelmingly staff have been incredibly grateful to be offered this free service, and are really impressed with the assistance and knowledge that Craig from Pedal Power has provided, helping to get their healthy bikes back on the road and winter ready. Following requests from our initial taster sessions, we added additional sites to these sessions including UHW and Woodland House and would be open to suggestions for different locations for any future events we may be able to run next year. I'd also like to say a huge thank you to Craig from Pedal Power for his assistance and flexibility with setting these sessions up, not much phases him!".
"Some staff have still said they have been unaware of these sessions, so I would recommend you keep an eye on our Cardiff & Vale Health Charity social media channels and website, https://healthcharity.wales/ for news of future dates or similar events next year. We also advertise via the UHB Staff Connects App."
This project is helping the UHB meet its commitments under the Healthy Travel Charter – further information can be found here: www.healthytravel.wales/charters
For further information on this or any of our Health Charity projects, please contact the team on fundraising.cav@wales.nhs.uk